James Arthur rows with Spraggan over homophobic slurs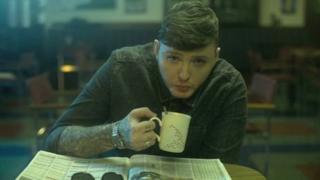 X Factor winner James Arthur has become embroiled in a war of words with fellow contestant Lucy Spraggan, the latest in a string of public relations mis-steps.
The 25-year-old recently quit Twitter after criticism of a rap battle in which he used the word "queer".
He reacted angrily when comedians Matt Lucas and Frankie Boyle challenged him, but later apologised and ceded control of the account to his managers.
However exchanges continued offline, in a string of abusive texts to Spraggan.
She took screenshots of the rant, in which Arthur called her a "fickle attention seeker", and posted them online on Wednesday night.
Spraggan had attracted his ire when she, too, criticised his use of homphobic slurs.
"Lucy what are you playing at having digs at me? You not thing [sic] you're being a bit over the top?" Arthur asked.
"Is it coz you're a gay rights activist you had to say something as extreme as 'people kill themselves every day over words like queer' are you for real?" he continued.
Arthur then pointed out his "album sold 10 times youres [sic] in it's [sic] first week".
His self-titled debut entered the charts at number two earlier this month, but is likely to drop out of the top 10 this weekend.
After Spraggan exposed their exchange, Arthur appeared to take back control of his Twitter account for a brief moment with the words: "Keep the witch hunt coming".
PR expert Mark Borkowski, told the BBC it was just the latest example of how Twitter could go wrong.
"[James is] clearly not sophisticated enough to recognise a) the power of his brand and b) the morality of his brand," said Borkowski.
He added that Arthur's record label, Sony, had limited options for damage control.
"You're not going to shut down a Twitter account that has over two million followers," he said.
"There is a sell-by date stamped on these performers and people try and keep as much life as possible going, until the audience move off to the next shiny beast they want to surround."
Mr Borkowski added it was common for public figures such as Britney Spears not to run their own Twitter account, because it was used as a marketing tool.
'Deeply sorry'
Late last week, Arthur apologised for his controversial rap song, a so-called "diss track" in which artists trade insults.
He said he was "disappointed in myself for being so naive" and "deeply sorry to any gay or lesbian people out there".
The singer said it was not his intention to "cause offence" and that "used in the context of the rap battles I have grown up with" the term queer had "come to mean something completely different".
He added: "Plus [former X Factor contestant] Rylan is one of my best mates and he is as gay as they come!"
However, hours later Arthur announced: "I'm coming off twitter for good".
"HQ will be doing all my tweets from now on," he added. "PEACE!"
PR expert Louie Gatas has looked after Twitter feeds for stars including The Saturdays, Take That and Lady Gaga as digital communications manager at Embrace.
He told the BBC it was not unusual for social media managers to step in when stars went off the rails.
"I really don't think there was any other option, I don't think they [James Arthur's management] could try to rectify what happened. I suppose it's damage control," said Gatas.
"When issues like that surface, we would think about what the best plan of action is and let the fans know [with a sign-off] it is not the artist managing it," he continued.
"I think they [James Arthur's team] started writing JA HQ. Fans want to know who they're speaking to. The majority of people know how social media is run these days, you need to be as honest and straightforward as possible."
Gatas said it was hard to police artists' Twitter feeds: "At the end of the day, the only thing we can do is control it in the same way a friend would."
"The artist needs to take ownership over what they're saying and we can just advise them, and make them aware of what the repercussions are, before they post on social media," he said.
No media-training
Since winning the X Factor, several of Arthur's comments have sparked controversy or generated headlines.
He has written expletive-laden messages about One Direction's Louis Tomlinson, and made off-colour statements about his ex-girlfriend, pop star Rita Ora.
Speaking to the BBC earlier this month, he revealed he had refused any media training from his record label.
"I've done a few face palms after things I've said because it's stupid. But if I'm not like that, I won't feel human anymore," he said.
"What's the point in me getting up in the morning and coming in and speaking to 20 journalists and having a script in my mind? It's soul-destroying."