Dame Edna to host show on Radio 2 festive schedule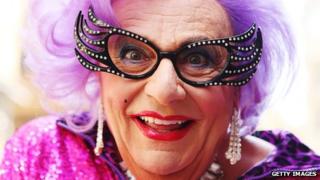 Dame Edna Everage and Robbie Williams are to host shows during Radio 2's festive schedule.
On Christmas Day, Glee star Matthew Morrison will host two hours of Broadway hits, while Roxy Music singer Bryan Ferry will reveal his influences.
Over two days, comedy duo Dawn French and Jennifer Saunders will play some of their favourite music.
Radio 2's Lewis Carnie called the line-up "the perfect accompaniment to the nation's celebrations".
Robbie Williams, who will stand in for Dermot O'Leary on 21 December, said: "Anyone who has heard Radio Rudebox will know I am a natural born DJ, and I have just been biding my time for a radio comeback!"
He added that he "jumped at the chance" and plans to invite "some very special people"
Dame Edna, currently playing at London's Palladium, said of her Boxing Day special: "I never get excited because I think it's an overdone word but frankly, I'm the next best thing to excited."
BBC One comedy star Miranda Hart will co-host a show with award-winning writer and former 6 Music host Jon Holmes while Sir Cliff Richard will present a look back at his career on Christmas Eve.
Sir Cliff, who has just recorded his 100th album, said: "Christmas is a very special time of year and I'm looking forward to coming back to Radio 2 to share this special time of year with listeners."
Christmas classics
When Noddy Stole Christmas, a programme hosted by Mark Radcliffe, will mark 40 year since the famous chart battle for the festive number one in which Slade's Merry Christmas Everybody beat Wizzard's I Wish it Could be Christmas Everyday.
Former EastEnders star Barbara Windsor will research the origins of pantomime in the 18th and 19th Centuries and will talk to guests including The Krankies, Su Pollard and Stu Francis.
Masters of Sex and Frost/Nixon star Michael Sheen will play hits from his formative years during the 80s while other hosts include Strictly Come Dancing judge Len Goodman and Scissor Sisters singer Ana Matronic who will host a show on New Year's Eve.
Sheen said: "This is the music I grew up to. I was 11 in 1980 and every day of that decade, every crush, every fight, every hope and every heartbreak is inextricably linked for me to its music."