Strangers on a Train stage production thrills critics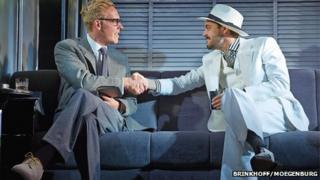 A theatre adaptation of Strangers on a Train in London's West End has been well received by critics, with many singling out its unique staging.
Starring Jack Huston and Laurence Fox, the play follows two men who make a pact to "swap murders".
Based on Patricia Highsmith's novel, it was previously turned into a film by Alfred Hitchcock in 1951.
The Daily Mail called the play "a spine-snapper of a stalker tale" and praised its innovative, rotating stage.
In his four-star review, critic Quentin Letts said the production had "some of the fastest, cleverest set changes ever attempted".
"Scenery is struck and replaced within a brief whisk of the revolve," he wrote. "One moment we are in an office, the next it has been turned into a fairground carousel.
"Add train interiors, a country house, a New York office, a dingy flat, and more - plus a blaze. Technical brilliance."
But Mark Shenton, writing for the London Theatre Guide, said the problem with such effective staging was that the actors tended to play second fiddle.
"For all their considerable efforts, they're outshone by that set - it's not the fault of the actors that they can't compete with its swirling revolve, which gives the most animated performance of the night."
Nerves
Highsmith's story concerns two strangers who meet on a train - architect Guy Haines, whose wife has been unfaithful, and Charles Bruno, heir to a wealthy, but cruel father.
Over a bottle of whisky, Bruno suggests they should "exchange" murders - each killing the person the other wants to "get rid" of.
That way, both can establish an alibi and, with no known link between the men and their victims, the police will be confounded.
Haines drunkenly agrees, believing it to be a joke but when his wife is found strangled, Bruno begins to inveigle his way into Haines' life while pressuring him into committing his own murder.
Huston, best known as disfigured hitman Richard Harrow in US TV series Boardwalk Empire, plays the dangerously charming Bruno - and admitted to some first night nerves.
Speaking after the performance, he told the BBC: "I went and had a few pees beforehand. It all is up to this night and it's all a blur now.
"Once it's done, you're like, 'Oh God, what do I do now?' but we have three more months of this."
In the Guardian's review, Michael Billington noted the differences between the 1951 film, co-written by Raymond Chandler, and the latest production.
"In the more entertaining Hitchcock movie, it was evident that Bruno represented Guy's dark side and was the Hyde to his Jekyll. But here the focus is on the implicitly homosexual bond between the two men.
"Laurence Fox is rather stolidly English as Guy, suggesting a house prefect drawn into some dirty business by one of his raffish juniors.
"Jack Huston looks more at ease as the serpentine, psychotic, white-suited Bruno."
Huston told the BBC: "You see a lot more of this character, how he is around his mother, his relationship with his father and how he is around people.
"It's a love story, I think. He falls madly in love with him and attaches himself to this guy. He feels like he will be immortal through Guy, and it's very sad."
The star-studded first night audience included members of the Fox acting dynasty, including Laurence's father James, brother Jack and wife Billie Piper.
Prometheus star Noomi Rapace, model Jerry Hall, The IT Crowd's Richard Ayoade and TV presenter Ruby Wax also attended.
The show, directed by Robert Allen Ackerman, also stars Christian McKay as Gerard, a private investigator.
He said the arrival of the "official" opening night had come as a surprise.
"I always think that when there's an audience out there, you're open and it should be the same performance you give in previews or if you have done the show 300 times," he said.
"That's a noble idea but tonight it was alive with electricity. My dressing room had been transformed into a grotto. There was enough booze to sink a ship so immediately you go, 'Now, I'm nervous'."
The Arts Desk called the play, "a flawed, but also novel and superbly staged production", praising Huston's performance.
"In white suit and a Panama hat, and with the light, stammering gaiety of the functioning drunk, Huston perfectly embodies a character at once comic and creepy, mother's boy, homosexual stalker and patricidal psychopath."
Strangers on a Train opens at a time when London's West End is in rude health - but Laurence Fox baulked at any suggestion that adapting Hitchcock was a sure-fire way to get people to the theatre.
"It's more the novel that's been adapted," he said. "But I think every person who watches drama on stage or on screen has an option. Do they want to watch EastEnders or Corrie? Do they want Phantom of the Opera or Hedda Gabler?
"What I hope is that this is a very mainstream, enjoyable play put within a truthful context that I hope is relevant to everyone.
"So I hope that people who like Hedda Gabler will watch it and people who watch Eastenders will watch it."
Strangers on a Train is on at the Gielgud Theatre until 22 February.