Michael Palin and PJ Harvey to guest edit Today programme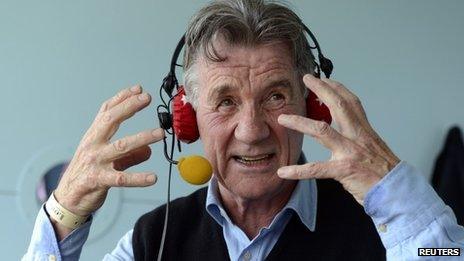 Monty Python star Michael Palin, former MI5 chief Eliza Manningham-Buller and musician PJ Harvey will take charge of Radio 4's Today programme this winter.
Web creator Sir Tim Berners-Lee and Barclays CEO Antony Jenkins will also be guest editors over Christmas.
Palin will be joined by fellow Python John Cleese to discuss their famous TV debate defending The Life Of Brian against criticism from the Church.
The comedy troupe revealed on Tuesday they are to reunite for a stage show.
The Today programme, Radio 4's flagship news show, traditionally hands the reins over to public figures during the festive season.
Previous editors have included Bono, Zadie Smith, PD James, Yoko Ono and Professor Stephen Hawking.
Blur's Damon Albarn used his edition of the programme to call for celebrity culture to be "dismantled"; while philanthropist Melinda Gates petitioned for women to have a bigger say in developing countries.
"We must have women's voices in this development conversation... they're the ones who are in charge of making sure that their children get educated," she explained.
This year's editors have already given some indication of the topics they will put on the agenda.
Manningham-Buller, a counter-terrorism expert who was heavily involved in the Lockerbie investigation, will explore the use of pigeons in spycraft and, with the help of architect Thomas Heatherwick, look at how we can make cities in the UK more distinctive.
Sir Tim, who helped develop the world wide web in the 1980s, will look at the future of the internet, asking listeners around the world what they want from the web.
In his programme, Palin will convene a meeting of some of the world's most respected travel writers to look at what their role is in a largely discovered world. He also travels to Ethiopia and asks whether small farmers hold the key to success in developing countries.
Barclays' chief executive will explore the changing workplace and what type of jobs today's youngsters should be preparing themselves for.
Double Mercury Prize-winner PJ Harvey will showcase some of her many influences - political, poetical and musical.
The guest editors are given a say in up to half of their particular three-hour broadcast, but their ideas and stories must still meet the BBC's guidelines for independence and impartiality.
Programme editor Jamie Angus said: "For the past 10 years, Radio 4 Today's Christmas guest editors have brought a surprising and refreshing editorial perspective to some of our biggest running stories, as well as unearthing original treasures that we'd never have found by ourselves."
The five guest editors' programmes will take place between Thursday 26 and Tuesday 31 December.