Spider-Man stage show will be 'better' in Las Vegas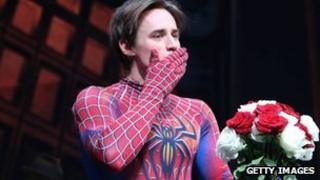 The director of the Spider-Man musical says the Broadway show will be better suited to its new Las Vegas home.
Michael Cohl, announcing the spectacle will close on 4 January after falling ticket sales, added it would be "more exciting and better" in Vegas.
He said the decision to quit the New York stage came after a poor autumn, but an upturn is expected next month.
Spider-Man: Turn off the Dark suffered delays to its opening in 2011, while some of its actors suffered injuries.
The show, which features songs from U2's Bono and The Edge, also suffered the dismissal of its original director Julie Taymor and subsequent legal action, while it faced some scathing reviews in its early days.
The musical features aerial acrobatics, digital projections and sophisticated sets, meaning that a new permanent home was deemed more suitable than a touring production.
Revisions to the current format are under discussion, including script rewrites, fresh music and new stunts.
"We'll work on improving everything,'' Cohl said. "It could be anything. It's a blank piece of paper. We know it's Spider-Man. We know it's Vegas. We know it's essentially what's playing here. But it could change in any number of ways. We'll have to wait and see.''
Cohl added that deciding to move out of Broadway was "not heart-wrenching. Heart-wrenching is when your kid is sick in the hospital."
"It's no secret that September and October were not a lot of fun. It was screaming at us 'the time has come'. So there it is, it's come," he added.
As the most expensive production in Broadway history, Spider-Man needs to rake in around $1.2m (£744,232) every week to break even, according to its makers.
Last week, ticket sales were closer to $750,000 (£465,000).
But it will have played some 1,268 performances on Broadway by the time it shuts down, and has been seen by an estimated two million people. Before its recent downturn, it was one of the biggest earners on the New York stage.
Further details of Spider-Man's new Las Vegas home are expected to be unveiled in the coming weeks.