Proserpine by Rossetti sets price record of £3.3m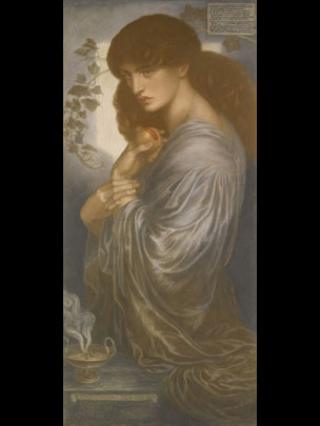 Proserpine by Dante Gabriel Rossetti has sold for £3,274,500 ($5,275,000) at auction in London, setting a new record for the artist.
Auction house Sotheby's said a fierce round of bidding, involving five international bidders, was won by a private collector in the UK.
Proserpine, depicting the empress of the underworld, is a defining image of the Pre-Raphaelite art movement.
The model is Jane Morris, wife of artist William Morris.
Biographers have said her own life bore similarities to that of the captive goddess, abducted by Pluto after eating pomegranate seeds, suggesting she was caught between a loveless marriage and her intimate relationship with Rossetti.
The drawing, in coloured chalks, had come to the art market for the first time in more than 40 years and been expected to fetch up to £1.8m.
Grant Ford, head of Sotheby's British and Irish art department, said: "Today's record price demonstrates that collectors are hungry for pictures of this quality.
"There has been a resurgence of interest in Victorian art, not least in part due to the huge success of the Tate's Pre-Raphaelites exhibition, which opened last year and travelled to Washington and Moscow.
"Opportunities to buy the very best works by Rossetti seldom occur and Proserpine was hidden away in a private collection for over four decades."
Proserpine was begun in 1878, and acquired by Glasgow MP William Graham in 1880.
It was last sold in 1970 by the Stone Gallery in Newcastle-upon-Tyne.
Tuesday's sale was part of an auction of British and Irish art, which brought in a total of £7,178,250 ($11,563,000). The second highest price achieved was £962,500 ($1,552,000) for Sir William Orpen's Portrait of Lady Idina Wallace.