Jon Culshaw: 'Monty Python are Beatles of comedy'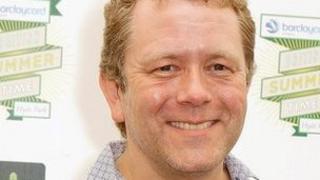 Impressionist Jon Culshaw has predicted that fans will be delighted at the news that Monty Python are to reform.
The Dead Ringers star, who played King Arthur in Python-inspired stage musical Spamalot, told BBC News that the first time he fell off a sofa laughing was when he was watching Monty Python on TV.
Here is his response to the announcement that the Pythons are reuniting on stage:
"It's a fantastic piece of news. I remember 10 years ago at a Peter Cook tribute show there was a performance of Terry Jones and Michael Palin together and the mere sight of them send the audience into absolute raptures.
"So the thought of all the Pythons back together is absolutely fantastic. People won't be able to wait to see what new inventions they are going to come up with. For comedy, the Pythons are The Beatles.
'Still as funny'
"Monty Python had that skill to create the most recognisable, the most quotable and the funniest sketches in the world, like the Parrot Sketch, the Spanish Inquisition, and Hell's Grannies. They are quoted all over the world.
"They are the most prolific creators of sketches I think there has ever been and, of course, there were the movies.
"Maybe this reunification on stage might just keep the momentum going and maybe there'll be another movie. I'm sure they'll love working together again - and who knows where it could lead?
"When everybody saw Led Zeppelin get back together it was phenomenal - and I'm certain it will be exactly the same with the Pythons.
"Monty Python was the first time I literally fell off the sofa laughing as a lad. I was watching the Upper Class Twit of the Year sketch.
And it's still just as funny now."