Liverpool Everyman theatre announces reopening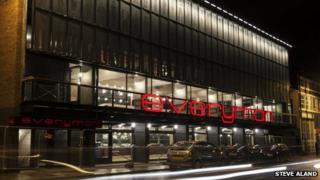 The Liverpool Everyman theatre is to reopen next March after being shut for almost three years to be rebuilt.
It will open with Shakespeare's Twelfth Night, starring Matthew Kelly and Nick Woodeson, who started their careers at the theatre in the 1970s.
They were part of the celebrated 1974 Everyman company alongside Bill Nighy, Julie Walters and Pete Postlethwaite.
Artistic director Gemma Bodinetz said she wanted "rebellious stories infused with wit and love" to reopen the venue.
The theatre will host a lighting up parade on 1 March 2014, followed by the opening of Twelfth Night one week later.
The season will also include the premiere of family saga Hope Place by playwright Michael Wynne, who wrote BBC comedy-drama Being Eileen.
The play is set on the street of the same name which, coincidently, is around the corner from the theatre's Hope Street base.
Other shows in the new season include a new version of The Beggar's Opera, in collaboration with theatre company Kneehigh,
Bodinetz said: "The Everyman has historically been a theatre that has represented the renegade and generous spirit of this city.
"It has held its arms wide open for the broadest section of humanity. It has always been fearless. It has always had a twinkle in its eye. When choosing the productions for this inaugural season I wanted plays that expressed these qualities."
The Everyman shut in July 2011 and has been rebuilt at a cost of £27m, including £17m from the National Lottery.