Elizabeth Price wins £60,000 contemporary art award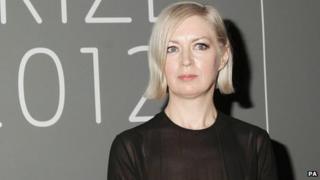 Video artist Elizabeth Price has been given a £60,000 commission to create a new work exploring the collections of two of Oxford's best known museums.
The Bradford-born artist will create a "moving image" artwork that will explore the collections of the Ashmolean and Pitt Rivers museums.
It comes a year after Price won the Turner Prize for a video work depicting a terrible 1979 fire in Manchester.
The £60,000 commission is one of the highest-value art prizes in the UK.
Now in its fifth year, it is awarded by Contemporary Art Society, and allows a UK museum or gallery to work with an artist, who will create a new work for its permanent collection.
Mark Wallinger, who announced the winner at a ceremony in London on Monday, described the award as a "crucial mechanism through which regional museums can acquire significant new works and maintain the vibrancy of their collections".
Charlotte Higgins, a 2013 judge and The Guardian's chief arts writer, said: "The panel was excited by the intellectual sparks that will be fired by Elizabeth's presence in the museums, and the curatorial, research and teaching possibilities that will flow from the work."
She added: "Price is an artist who is working at the peak of her powers, but is still underrepresented in British institutions. It's fitting that the museums of the city where she studied and now teaches should be together committed to correcting this. Above all, though, the panel just can't wait to see what she makes."
Also on the 2013 shortlist were:
Jess Flood-Paddock for Birmingham Museums
Des Hughes for The Hepworth Wakefield
Lucy McKenzie for Scottish National Gallery of Modern Art
Born in Bradford in 1966, Price received a Bachelors degree in Fine Art from Oxford University before attending the Royal College of Art where she obtained an MA in Fine Art in 1991. She also has a PhD in Fine Art from the University of Leeds.
Price's commission will be a single-screen video work that will focus on "the female figure" within the Ashmolean and Pitt Rivers collections.
Price said: "The very generous commission budget will enable me to make an artwork that would be otherwise impossible to realise."
The artist, who uses archival images, text and music to create her works, won the £25,000 Turner Prize in December 2012 for her video piece, The Woolworths Choir of 1979.