Matthew McConaughey and Scarlett Johansson honoured at Rome festival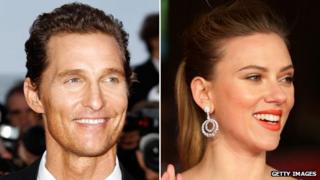 Hollywood stars Matthew McConaughey and Scarlett Johansson have received best actor and actress awards respectively at this year's Rome Film Festival.
The latter was recognised for her role in Spike Jonze's film Her, in which she is heard but not seen as the voice of a computer operating system.
McConaughey was honoured for his Oscar-tipped role as a 1980s Aids activist in Dallas Buyers Club.
Tir, a documentary about a Bosnian truck driver, won the best film award.
It is the second documentary to win top honours at an Italian film festival this year, following the success of Sacro GRA at Venice in September,
The film, directed by Alberto Fasulo, is also the first Italian title to win Rome's top prize since the festival began in 2006.
Japan's Kiyoshi Kurosawa - who is not related to his namesake Akira - won the best director award for his thriller Seventh Code.
Dallas Buyers Club also won an audience prize at Saturday's ceremony, held on the penultimate day of the 8th Rome Film Festival.