Andy Kaufman brother claims he is 'victim of a hoax'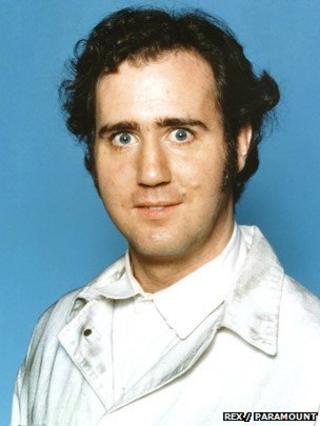 Michael Kaufman has said he now believes he is the victim of a hoax, to trick him into believing his comedian brother - late Taxi star Andy Kaufman - is still alive.
In a US TV interview, he denied hiring an actress to play a 24-year-old woman who claimed to be the daughter of comic Andy - who died in 1984 aged 35.
"I believe I am part of the hoax," he told CNN's The Lead with Jake Tapper.
Kaufman added: "I don't believe that [she] is acting on her own, though."
Best known for playing the incompetent Latka Gravas in 1970s sitcom Taxi, Andy Kaufman officially died of lung cancer in 1984.
But on Monday, during an awards show set up by their father in Andy's name, Michael told the audience he had received a letter from Andy in 1999, confirming that he was alive.
He then introduced a woman who claimed to be his long-lost niece.
"He just wanted to be a stay-at-home dad, that's why he wanted to leave the showbiz," the unnamed woman explained to the crowd.
Before her entrance, Michael had described how, many years ago, he discovered an essay in which Andy detailed plans to fake his death.
It was accompanied by a note, saying the comedian would reappear on Christmas Eve 1999, in a specific restaurant.
Although Andy failed to show up, Michael was handed a letter explaining that his brother had gone into hiding to live a normal life, and now had a wife and daughter.
'I was misquoted'
The video of Monday night's ceremony was published online, and a report on The Smoking Gun website later claimed that the woman was actually a New York-based actress.
During his interview on CNN, Michael denied hiring her himself and said he was now confused over the whole incident.
He also raised doubts about the story during a brief telephone interview with The Hollywood Reporter on Thursday.
"I think I've been misquoted, OK? I never came out with, 'He's alive.' I'm as sceptical as anybody else," said Michael.
Alongside his role in Taxi, Andy Kaufman was an eccentric performance artist who often staged elaborate pranks that entertained, confused and at times frustrated his fans.
A life-long health fanatic, Andy was diagnosed with cancer at the age of 33 and died in May 1984. A copy of his death certificate, which lists the cause of death as renal failure, can be seen online.
Despite this, a portion of his fan base has always maintained his death was a hoax and the internet has been filled with speculation in recent days.
However Andy's last girlfriend Lynne Marguiles, 56, told TMZ that she saw him die.
"I was in the hospital room. I was there. They would have had to switch bodies," said Marguiles.
She told the website she believed the woman claiming to be his daughter was just "pulling an Andy" and trying to perpetuate the myth that he is still alive.