Lou Reed: Fans pay tribute at New York memorial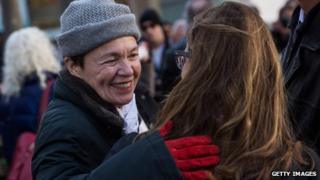 Fans and family of rock musician Lou Reed have paid tribute to the late star at a music-rich public memorial on the streets of New York.
Billed as a "simple celebration", the event saw fans dance to Reed's hits which were played over loudspeakers.
His widow, performance artist Laurie Anderson, greeted well-wishers as they enjoyed the music.
The former Velvet Underground frontman died on 27 October after complications from a liver transplant.
The memorial was previewed on Reed's Facebook page as a gathering with "no speeches, no live performances, just Lou's voice, guitar music and songs - playing the recordings selected by his family and friends."
His hits could be heard for three hours on Thursday across the plaza next to the city's Lincoln Center for the Performing Arts, and featured many high points of his long career.
Janet Baletti, a fan for 40 years, travelled from New Jersey for the event, and said: "I always felt like he was a genius and he always will be.
"He had such a beautiful aura about him," she added.
Reed's music frequently made reference to New York, a fact acknowledged by local fan Alan Bako.
"I like his music and I like the idea that he's a real New Yorker," Bako said. "I remember when I saw him at the Fillmore East with the Velvet Underground in the late 1960s," he said, in reference to the legendary New York club.
Known for tracks including Perfect Day and Walk on the Wild Side, Reed was considered one of the most influential singers and songwriters in rock.
The Velvet Underground became renowned for their fusion of art and music and for collaborating with Andy Warhol.
As a solo artist, the musician released 20 studio albums. His last, Hudson River Wind Meditations, was released in 2007.
Meanwhile, it has been announced that long-serving Rolling Stone magazine music critic and writer Anthony DeCurtis is to write a biography of Lou Reed.
Billed as the "inside story" of the rock star's life, the Little, Brown and Co book is untitled and has yet be assigned a publication date.