End of Poirot watched by 5.2 million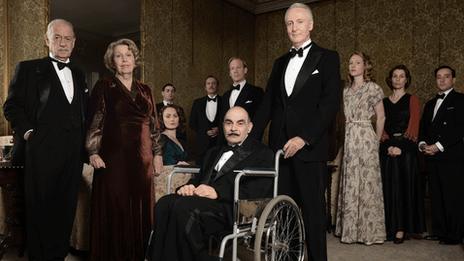 The final episode of Agatha Christie's Poirot, starring David Suchet as the moustachioed detective, bowed out with an average of 5.2 million viewers.
Watched by 23% of the audience, the ITV crime drama beat competition from a special Children in Need episode of DIY SOS, watched by 4.6 million.
The two-hour Poirot episode peaked at 5.8 million in the first five minutes.
A review in The Telegraph said Curtain: Poirot's Final Case proved the show was "one of TV's greatest achievements".
Giving the episode a five-star review, James Walton saluted its "unshowy brilliance".
"After 24 years, 70 programmes and the triumphant realisation of David Suchet's dream of covering every Poirot novel and short story, the series could certainly have been forgiven for bowing out in a burst of self-congratulatory glory", said Walton.
"That, however, has never been its style - or the secret of its success."
The episode saw elderly detective Hercule Poirot call on old friend Captain Hastings for help as they returned to Styles Court, the scene of their first case.
It did not achieve the highest viewing figures of the series however, with two October episodes watched by more than six million people.
"It's exactly as Agatha Christie - and Poirot - should be. I'm totally in the dark, in every way, but having fun."
He continued: "It's beautifully done by Suchet. I think we witness the genuine pain of an actor letting go of the body he's occupied for 24 years."
He told presenter James Naughtie: "I, David, was inevitably saying goodbye to my friend, Hercule Poirot".
The Huffington Post said Suchet was in "subdued but stunning" form as the Belgian detective, who is confined to a wheelchair for the farewell episode.
It earned a modest three-star review in The Independent, which suggested one element of the plot could be interpreted as "laughable, depending on your tolerance for this creaky old-school whodunit fare; it wasn't exactly The Killing or Broadchurch".
However, Gerard Gilbert continued: "Suchet has managed to well and truly eclipse any previous Poirots, including Peter Ustinov, and make the role definitively his own.
"Given the modern actor's reluctance to be typecast, we may probably never see his like again."