ITV unveils plans to open Coronation Street set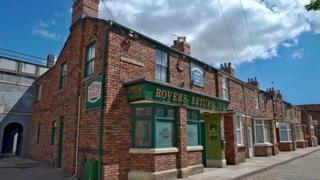 Coronation Street's producers are planning to open the famous terraced street to the public next year after filming moves to a new site.
A visitor attraction allowing fans to walk down the cobbles could open for six months from next spring, ITV said.
The existing set, which has been used since 1982, will be vacated when the show moves to a new home at MediaCityUK in Manchester early next year.
An exhibition showing the plans is at ITV's Manchester studios on Thursday.
The broadcaster said fans would get "a wonderful opportunity to visit and experience the set".
It would be the first time the street has been opened to the public since 1999, ITV said.
Fans were previously able to walk down the cobbles as part of Granada Studios Tours. The new tourist attraction would be run by former Granada Studios Tours director Chris Mather.
An ITV spokesperson said: "After the production has moved to its new home, and subject to planning permission, we are looking into the possibility of opening the current Coronation Street set at our Quay Street site as a tourist attraction for a limited period, giving fans the opportunity to walk down the famous cobbles."
The soap's street and houses have been rebuilt at MediaCityUK to a slightly larger scale to accommodate the demands of high definition filming.
The new site, which will be officially launched later this month, also has more space, allowing producers to build an extra road, Mawdsley Street, which was previously seen only as a backdrop.
The long-term future of the current set is still uncertain. ITV sold the former Granada Studios site in September to developers Allied London, which is planning to turn it into a residential and commercial quarter.
Last year, English Heritage turned down an application to give the soap's set listed status, saying it was not historic enough.