Philomena granted new PG-13 rating in US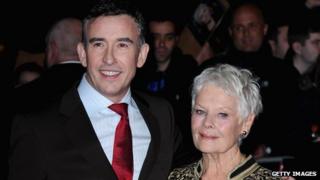 British film Philomena has been granted a less restrictive rating by the Motion Picture Association of America (MPAA) after its US distributor campaigned to overturn its original certification.
The film, about a woman searching for the son she was forced to put up for adoption, had initially been rated 'R' for two instances of bad language.
The 'R' rating requires cinema patrons under 17 to be accompanied by an adult.
Dame Judi Dench's drama will now be a PG-13 when it comes out on 22 November.
The rating warns parents that "some material may be inappropriate for children under 13" but does not require them to be accompanied.
The MPAA reversed its original decision following a media campaign that saw Dame Judi resurrect her M character from the James Bond series in an online sketch.
The skit, posted in full on the Funny or Die website, saw M assign Steve Coogan's "Double-O-Two" the task of visiting the MPAA to appeal on Philomena's behalf.
Coogan, who co-stars in the film as a journalist who assists the title character in her quest, attended an MPAA hearing in Los Angeles on Wednesday that led to the new rating being granted.
'No one does it better'
Harvey Weinstein, whose company is distributing Philomena in the US, paid tribute to Bond producer Barbara Broccoli, current 007 Daniel Craig and Skyfall director Sam Mendes who "gave permission to spoof the ratings system using the M character".
"We know that went a long way into shedding light on the themes of the movie and the fact that the PG-13 rating was correct," the producer continued.
"We are glad the MPAA has a good sense of humour and with the cooperation of Barbara and her team it was proven once again no one does it better than James Bond."
Weinstein had previously said that although the film would not necessarily appeal to children, the PG-13 rating was important for adults in certain areas of the US who would not consider going to watch an R-rated film.
Philomena director Stephen Frears said: "We felt the MPAA had made the wrong decision in handing the film, which has no violence or lewd material and the bare minimum of adult language, an 'R' rating.
"I am overjoyed they've changed their ruling in order to give families like mine an opportunity to see this film together."
Since opening in cinemas on 1 November, Philomena - a BBC Films co-production - has made more than £4.7m in the UK and Ireland.
Earlier this week it was nominated for four British Independent Film Awards, including best actor and best actress.