I Love Lucy actress Shirley Mitchell dies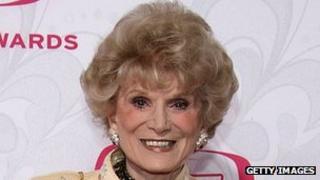 Shirley Mitchell, the American actress believed to be the last surviving adult cast member from classic sitcom I Love Lucy, has died in Los Angeles aged 94.
Mitchell, the widow of Oscar-winning composer Jay Livingston, played Lucy's friend Marion Strong in three episodes of Lucille Ball's 1950s sitcom.
Born in Toledo, Ohio, Mitchell also had recurring roles in Please Don't Eat the Daisies and The Beverly Hillbillies.
In later life she had roles in Dallas, CHiPS and The Fresh Prince of Bel-Air.
She and Livingston, her second husband, were married from 1992 until his death in 2001.
Her most recent credit came in a 2012 edition of animated series Mad, in which she was heard impersonating Golden Girls actress Betty White.
According to the Hollywood Reporter, Mitchell died on 11 November of heart failure at her Westwood home.
Her death was confirmed by her sister-in-law Nancy Olson, the actress Oscar-nominated in 1951 for her supporting role in Sunset Boulevard.
Former child star Richard Keith, who played "Little Ricky" in 24 episodes of I Love Lucy, is now understood to be its only surviving cast regular.