Darwin's letters and Lennon's lyrics donated in tax scheme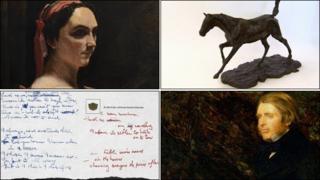 Charles Darwin's letters and John Lennon's lyrics have been given to the public under a scheme which accepts cultural artefacts in place of tax.
Taxpayers also handed over sculptures by Barbara Hepworth and a painting by Mark Rothko through the Acceptance In Lieu scheme over the past year.
In total, 30 collections, worth £49.4m, were handed over in 2012-13, said Arts Council England.
Now owned by the public, they will be displayed in museums and libraries.
The scheme was created in 1910, and allows owners to use their cultural and historical artefacts to pay inheritance tax.
It was augmented this year by the Cultural Gifts Scheme, which allows people to give gifts to the nation for a reduction in income tax.
In both cases, they are given the full open market value of the item, which is then allocated to a public institution.
The Lennon archive, which includes handwritten lyrics to Strawberry Fields Forever, is housed in the British Library.
It also features an early draft of In My Life, which featured on the Beatles' album Rubber Soul, with a line about Penny Lane crossed out.
They were donated by Beatles biographer Hunter Davies in lieu of £120,000 tax.
Cambridge University Library will receive the Darwin papers, which represent the earliest known examples of the scientist's handwriting.
They include letters written to a (possibly imaginary) friend, and a two-page prayer he wrote at Edinburgh University.
A portrait of art critic and poet John Ruskin by John Everett Millais has been allocated to the Ashmolean in Oxford, while the estate of British painter Lucian Freud bequeathed works by Corot and Degas.
Corot's work L' Italienne ou La Femme a la Manche Jaune (The Italian Woman, or Woman with Yellow Sleeve) had not been seen in public for more than 60 years before being allocated to the National Gallery in February.
Edward Degas' bronze sculpture of a galloping horse, one of several bronzes donated by Freud's estate, is housed in the National Museum Cardiff.
Two sculptures by Barbara Hepworth have been acquired by the National Galleries Scotland, and installed in Edinburgh's Royal Botanic Gardens.
One of the more unusual donations is Raphael Ortiz's Duncan Terrace Piano Destruction.
The work was created in 1966 when Oritz, stripped to the waist, entered the home of London couple Jay and Fran Landesman and set about their piano with an axe.
"The first hit of the axe proved my theory, the sound resonated as I have never heard before," he said at the time. "With a final axe swing the harp came loose and tumbled down the stairs... Bits and pieces of axe-sliced black and white piano keys were scattered everywhere I looked.'
The resulting work, a collage of shattered wood, coiled piano strings and ivory fragments, is on temporary loan to the Tate.
Sir Peter Bazalgette, chair of Arts Council England, which administers the Acceptance In Lieu scheme, said it "brought treasures with an unprecedented commercial value into the national collections".
He added: "If their sale had been on the open market, these works of art might have been lost forever. Instead, this report details the beautiful and fascinating objects that can now be enjoyed by the public."
Culture Minister Ed Vaizey added: "The Acceptance in Lieu Scheme is a fine example of a win-win-win situation.
"The owner of the item accepted gets a discount on their tax bill, a museum or gallery gains an important new acquisition for their collection, and the public get a chance to enjoy it free-of-charge, often for the very first time."