Fifty Shades of Grey film delayed to 2015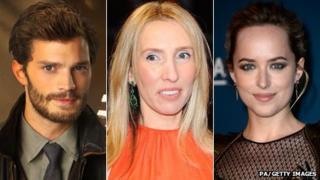 The release of the highly anticipated film adaptation of Fifty Shades of Grey has been put back six months.
Originally intended for release on 1 August 2014, the film will now debut in February 2015 on the same weekend as Valentine's Day.
Shooting was put back after Charlie Hunnam dropped out of the male lead role.
Jamie Dornan has since replaced him as Christian Grey, opposite Dakota Johnson.
The British actor, known for his roles in BBC drama The Fall and US fantasy series Once Upon A Time, is expected to sign up for at least three films based on EL James's book trilogy.
'Global event'
Donna Langley, of Universal Pictures, described the film as a "global event" while denying the date change was due to Hunnam's departure from the film.
"We've been looking really closely at the August date and becoming more and more convinced that the right thing to do for the movie was to push it," Langley told Entertainment Weekly.
"So even if Charlie had stayed, we still would have been making the date change."
Published in 2011, Fifty Shades of Grey follows the sexually charged relationship between billionaire Grey and college student Anastasia Steele.
Johnson, the 24-year-old daughter of Melanie Griffith and Don Johnson, was confirmed to play Steele in September.
Film-maker and artist Sam Taylor-Johnson will direct, with producer Michael De Luca citing her "unique ability to gracefully showcase complex relationships dealing with love, emotion and sexual chemistry".
EL James, whose trilogy has sold more than 70 million copies around the world, is a co-producer on the film.