BBC 'will pay' HR boss Lucy Adams' legal costs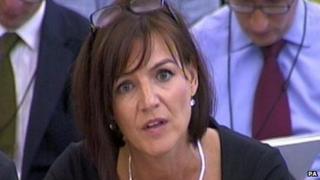 The BBC has confirmed it is paying the legal fees of departing HR boss Lucy Adams, who is suing the National Union of Journalists (NUJ) for defamation.
A spokesperson for the BBC said an NUJ statement published in August "made serious and damaging allegations against Lucy Adams in her role as the BBC's Director of Human Resources".
"The BBC has agreed to fund the reasonable costs of Ms Adams seeking external legal advice."
Ms Adams is leaving the BBC next year.
In August, Ms Adams - who is paid £320,000 a year - announced she would leave the corporation in March 2014 without any severance pay.
A day after her departure was announced, the National Union of Journalists published a statement about an alleged campaign by the BBC human resources department of "hacking staff emails and bullying employees into spying on colleagues".
The NUJ's claims were instantly dismissed by the BBC as "false and without foundation".
Ms Adams later announced she was taking legal action against the NUJ and its general secretary, Michelle Stanistreet, over "an unwarranted and very personal attack".
'Inappropriate expenditure'
In response to a Freedom of Information request, the BBC said:" The funding currently covers the provision of legal advice to Ms Adams prior to the issue of proceedings and her lawyer's costs must be approved by the BBC in advance in incremental caps, with an explanation of the work that needs to be undertaken."
Ms Adams faced tough questioning from MPs in July about why some severance packages awarded to senior BBC managers involved the corporation paying them more than it was contractually bound to.
In September she admitted a mistake in her evidence to MPs, after it became apparent that an email to the Trust about pay-offs about which she initially claimed to be "not aware" was actually co-authored by Ms Adams.
Stewart Jackson, a Conservative MP and member of the Public Accounts Committee (PAC), told The Independent he would "press for the senior management and Trust Board to return to the Public Accounts Committee and fully account for this inappropriate expenditure".
"The BBC seems to have learned nothing from the recent exposure of its largesse and profligacy with licence fee-payers cash," he is quoted as saying.