Joseph Gordon-Levitt: 'Don Jon is not about porn'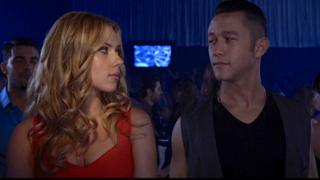 He's already been a child star, a darling of independent cinema and a superhero's sidekick - now actor Joseph Gordon-Levitt has made his directing debut at the age of 32.
Don Jon, which he also wrote and stars in, explores how the media helps to, as Gordon-Levitt puts it, "objectify relationships rather than connecting with each other".
The actor plays a young man living in New Jersey, who, while devoted to his family, friends and faith, finds that his pornography addiction is stopping him from finding a real relationship. Scarlett Johansson and Julianne Moore also co-star.
Originally titled Don Jon's Addiction, the film's open depiction of porn is, along with Lovelace - also released this year and starring Amanda Seyfried as 1970s porn star Linda Lovelace - Hollywood's first mainstream exploration of the industry since 1997's Boogie Nights.
However, Gordon-Levitt describes this theme as "the headline the media wants and needs to sell the film".
"The pornography aspect will grab people's attention I know, but it's not what the movie is about, no more than another film I was in, 50/50, about a cancer sufferer, was actually about cancer," he says.
"I don't let that bother me, audiences who have already seen Don Jon know it's actually about love and relationships.
"I always wanted to tell a story about love, and what gets in the way of it. I am fascinated with the way the media impacts our private lives and our culture, and it seems to be that different aspects of the media have given us a checklist of expectations like never before.
"So I thought a story about a man who watches too much pornography, who falls for a girl who watches too many romantic movies, would be a really funny way to explore those questions."
Scarlett Johansson takes on the part of Barbara, Jon's girlfriend. Despite the fact that he describes her as "a dime" - in other words, a 10 - he finds pornography easier to deal with. She, in turn, has her own set of expectations about her boyfriend's behaviour, based upon her favourite film stars.
"I wrote the part of Barbara pretty much for Scarlett," Gordon-Levitt confesses, "so she was my first choice."
"Partly I wanted her because she is so beautiful - to make it seem even odder that Jon would choose porn over her - but also because she has been subjected to exactly that same kind of media objectification because of her looks.
"That was actually partly why she wanted to do this, she wanted to satirise it. There is so much more to Scarlett than her conventional beauty, and this movie should make you think about that when you are watching her."
Born and raised in the Los Angeles area by two social activists, he says the main critic he wanted to please in making the movie was "my mother, with whom I had this discussion right from the very start on whether it was now more difficult to form proper human relationships now because of what the media puts in front of our eyes, especially in the form of pornography".
"However, you even have something like Facebook these days, where people will get into relationships just to be able to put that on their page.
"My mother saw the film at the world premiere at this year's Sundance Film Festival, and she really liked it. That made me so happy, because she was active in the feminist movement in California in the 1960s and 1970s.
"She was always telling my brother and me if something came on TV that objectified women, and she has given me my ideals. They're at the heart of the movie."
Child star
After being a child star in hit TV series Third Rock From The Sun, Gordon-Levitt found fame as a young adult in the teen film Ten Things I Hate About You and then 500 Days of Summer.
Since then, he's gone on to star in big-budget productions such as Christopher Nolan's Inception and The Dark Knight Rises.
There were, he hints, "studio offers" to fund a directing debut, but in the end it was done independently for a budget of less than six million dollars.
"I knew I wanted it that way," he says. "I didn't want to direct a movie and answer to someone else and end up shut out of the editing room. So I wrote something that didn't have car chases or explosions or aliens or anything really expensive in it. I was trying to be smart about it."
Noting that actors like George Clooney, Robert Redford, Clint Eastwood and James Franco have all made the transition into both acting and directing, Gordon-Levitt confesses: "I'd like to do it again. I mean, I hope I get to do it again because I certainly want to.
"I think the roles of who does what within a movie are more blurred as technology expands, and it certainly makes it easier to both direct and act in the same film, which is what I was always going to set out to do with Don Jon."
Is there a change in attitude towards what Hollywood will risk putting on the big screen - including former taboo subjects such as pornography? Gordon-Levitt disagrees.
"I don't think that the traditional Hollywood system would actually have funded something like Don Jon, not the way I wanted it to be," he replies.
"I don't think attitudes change quickly. However, it has been released by a major studio, so they are certainly on the look out for films already made by people who are thinking out of the box.
"I think it's all on a case by case basis. A film like Django, for example, dealing with slavery in that manner, would have been unthinkable a few years ago, but then Tarantino comes along. It's entirely down to the individual."
Don Jon is released in the UK 15 November.