Karl Pilkington Philippines show shelved by Sky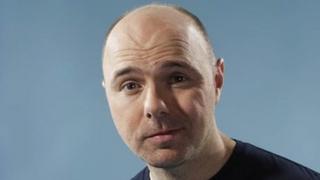 The last part of Karl Pilkington's Sky One travel show, set in the Philippines, has been pulled in the wake of Typhoon Haiyan.
The episode, which considers how Filipinos deal with death, was deemed "inappropriate" to air after the huge loss of life caused by the disaster.
A re-run of the series' first programme will now be aired on Sunday.
Pilkington, closely linked with comic Ricky Gervais, is also known for his travel series An Idiot Abroad.
Sky One said the programme would be aired at a later date, adding it was "very proud" of the episode and "keen" to screen it "once we feel it is appropriate to do so".
Pilkington's latest series has seen him travel around the world to see how different cultures deal with crucial issues, while facing up to his own concerns as he turns 40.
"I've been on the planet for 40 years now, and I'm still none the wiser as to what it's all about, really," he said of his journey of self-discovery.
Pilkington was initially the producer of Gervais's podcasts, but his role on the shows became increasingly prominent. The series was later remade as an animated series for US cable broadcaster HBO.
Last year he made his acting debut alongside Gervais in Channel 4 sitcom Derek.