Sir John Tavener: Your memories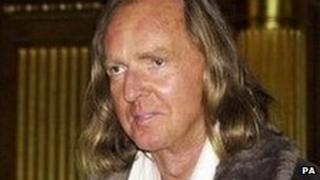 British composer, Sir John Tavener, has died at the age of 69.
Sir John was known for music that drew on his deep spirituality, and includes Song For Athene, which was played at the funeral of Princess Diana.
He had suffered ill health for much of his life, including a major heart attack in 2007. He died at his home in Child Okeford, Dorset, on Tuesday.
Here, BBC News website readers share their memories of Sir John and his works.
Geoff Twigg, Chicago, USA
I first saw Sir John Tavener at a "Meet the Composer" event at London's South Bank in the 1970s.
I wrote a personal note to Sir John about my interest in composition.
He must have heard some of my music and enjoyed it because he accepted me as a private student.
I studied composition with Sir John for about four years before studying further with him when I went to Trinity College of Music, London during the late 1970s and early 1980s.
Under his guidance I won a number of significant music prizes including the Royal Philharmonic Society Prize 1980 for best young composer in the UK.
His character and integrity were impressive - this really affected me as I sought to develop a unique musical voice and to realise the integration of life, faith and art.
From time to time, we went to the Russian Orthodox Cathedral in south west London where he had a deep spiritual relationship with Metropolitan Anthony of Sourozh, known for his writings on Christian life.
I now work with around 850 churches in the USA composing.
Sir John's mentoring and friendship was a solid basis for a wonderful career in music.
Sheila Longman, Guildford, Surrey
I have seen Sir John at several of his concerts in Brighton and London.
The last one was in Westminster Cathedral where, in the company of HRH Prince Charles, there was a performance of The Beautiful Names.
I sat with some of the priests from the cathedral. It was a healing and moving experience of unity and mutual respect.
He was known for wanting his music played in churches, not for his performances to be considered as concerts.
But at the Brighton Dome I did see a shortened version of The Veil of the Temple which was three hours long without an interval - the long version lasts around eight hours.
In spite of the setting, the music turned the dome into a truly spiritual place where the audience showed real respect in the demanded silence at the end.
This was only broken when someone realised that Sir John was present - he received a standing ovation.
I really appreciate Sir John's music because of its mysticism, depth and openness to other religions.
I am so sorry we have lost him and I hope that his most recent compositions, including The Beautiful Names will be available on CD and of course, performed by others. May he rest in peace.
Stephen Richardson, France
I was extremely fortunate to be be chosen to sing as the bass soloist in about 10 of Sir John's works - nine of them world premieres - ranging from Eis Thanaton to Fall and Resurrection over a period of approximately 15 years. We collaborated frequently.
I first met him in the 1980s when I went to audition for a new work he had written, connected with the death of his mother.
He picked me up from the tube at Wembley in his father's Rolls Royce and we chatted, sang and ate some Greek food at his home.
I'll never forget the feeling of awe I had just being in this man's company.
He was an unbelievably spiritual person, and projected an aura of I suppose other worldliness. His music had the same effect on me.
His musical gesture, like him, was sure and deliberate - possessing a great sense of purpose.
He was never in a hurry, but took time in expressing exactly what he wanted to say in a way that was lucid and could never be misunderstood.
In rehearsals he would often have a twinkle in his eye and you could sense the sheer delight he experienced in having his works performed.
He had a wicked sense of humour too, which he shared generously - often hilarious. He once told me, chuckling, that The Lamb, a piece for SATB [soprano, alto, tenor, bass] choir, took less time for him to write than it does to sing.
Many happy memories.
Gary Andrews, Chester, UK
I was fortunate to attend a number of the performances held at the Barbican Centre to celebrate Sir John's 50th year.
Over the course of the festival, I met John and his lovely wife a number of times.
What struck me most about John was that obviously he was a great composer, but he was a really kind and deeply spiritual man.
Some months later he was giving a lecture in London on tradition and the primordial in music.
As I was unable to attend I wrote to him and he kindly sent me a copy of his lecture notes and thanked me for taking an interest in his music.
Sir John was one of our finest composers and most importantly a truly good man.
Interviews by Andree Massiah.