Alan Titchmarsh quits Chelsea Flower Show coverage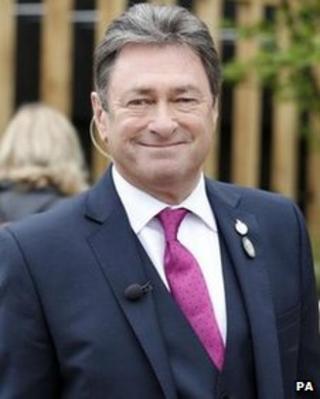 Presenter Alan Titchmarsh is stepping down from the BBC's Chelsea Flower Show coverage, after 30 years as its host.
He will not feature in BBC One and Two's broadcasts from the event, which will undergo a revamp for 2014.
BBC newsreader Sophie Raworth will join the new-look presenting team, along with Gardeners' World host Monty Don.
The horticultural show had been Titchmarsh's last major BBC commitment, after many years fronting Gardeners' World from his own garden.
He quit the BBC Two show in 2002 and currently hosts an afternoon chat show on ITV and, following his departure from Radio 2, hosts a radio series on Classic FM.
"The way the Chelsea coverage will be presented across the BBC has changed for 2014, and Alan decided to step away from next year's show," said a BBC spokeswoman.
Titchmarsh, 64, said: "I really enjoyed my 30 years of presenting Chelsea Flower Show coverage for the BBC and wish the new team every success."
Raworth and Don will join Chelsea Flower Show regulars such as Joe Swift for more than 12 hours of broadcasts from the show ground in London.
They will include live coverage of the latest designs and planting innovations.
Raworth, who unlike the majority of the show's presenters is not a gardening expert, said she was "delighted and honoured" to be part of the team.
"I grew up in a family of very keen gardeners, so know something about the joys and sheer hard work that go into creating such beautiful places," she said.
Other returning faces for the 101st Chelsea show include Carol Klein and Rachel de Thame from Gardener's World and Andy Sturgeon, Chris Beardshaw and Toby Buckland.