Jockey portrait wins Taylor Wessing Photographic Prize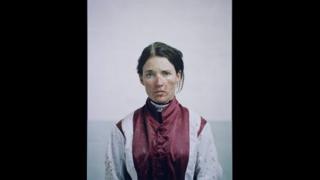 A portrait of jockey Katie Walsh has been awarded the 2013 Taylor Wessing Photographic Prize at a London gala.
Spencer Murphy took the shot of jump jockey Walsh at Kempton Park, although she had not raced there that day. He wins a cheque for £12,000.
Last year the Kent photographer took third place with his portrait of stage actor Mark Rylance.
His work will go on show at the National Portrait Gallery in London from 14 November to 9 February.
The exhibition showcases the best in contemporary portrait photography.
The other three finalists will also be displayed at the exhibition - Giles Price's shot from the Kumbh Mela Festival in India, which was awarded second place, Anoush Abrar's photograph of former UN Secretary General Kofi Annan, which came third, and Dorothee Deiss's portrayal of twin sisters, which finished fourth.
The judges selected 60 portraits for the show from 5,410 submissions.
Murphy, whose work has been included in the exhibition on six previous occasions, said: "I was keen to include Katie. I wanted to show both her femininity and the toughness of spirit she requires to compete against the best riders in one of the most demanding disciplines in horse racing.
"I chose to shoot the series on large-format film, to give the images a depth and timelessness that I think would have been hard to achieve on a digital camera," he added.
The John Kobal New Work Award for a photographer under the age of 30 was given to Hana Knizova, selected for the exhibition for her portrait of twin sisters Elza and Nellie.
She wins a commission to photograph a sitter connected with the UK film industry for the National Portrait Gallery Collection.
Sandy Nairne, director of the National Portrait Gallery in London, said: 'The 2013 Taylor Wessing Photographic Portrait Prize exemplifies photographic portraiture at its most perceptive. These are sharp, engaging portraits. My congratulations to all the prizewinners."