Hunger Games: Catching Fire director 'cut a couple of frames'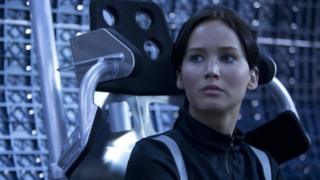 The director of the latest Hunger Games film has said he had to make some very minor changes to secure a PG-13 rating in the US.
"We didn't have too many issues with the ratings board," Francis Lawrence told the BBC.
"We had to go back and we cut a couple frames, adjusted some volume, took a little bit of blood out, but it was very little that we had to do."
The Hunger Games: Catching Fire is out in the UK on 21 November.
The film's star, Jennifer Lawrence, and other cast members walked the red carpet on Monday night in London's Leicester Square at the film's world premiere.
It is released in the US on 22 November.
Catching Fire is the second film of the franchise based on the best-selling trilogy of novels by Suzanne Collins.
It is set in a society where adolescents fight to the death on live TV.
In this latest instalment, last year's victors Katniss (Lawrence) and Peeta (Josh Hutcherson) become targets of the ruling elite after they help spark a rebellion.
They are shocked when it is announced that the next Hunger Games will feature victors from previous years.
The cast includes Woody Harrelson, Lenny Kravitz, Donald Sutherland and Philip Seymour Hoffman.
In the US, the film is rated PG-13 for "intense sequences of violence and action, some frightening images, thematic elements, a suggestive situation and language".
"We always aim in America for the PG-13," said Francis Lawrence, who is not related to Jennifer.
"You're always aware of those guidelines so whenever you get into a scene or sequence that could be tricky, you try and stay vigilant, you try and shoot some options, have an idea ahead of time so you don't get stuck."
He assumed that Gary Ross, director of the first film The Hunger Games, may have had a harder challenge.
"It must have been a different ball game because kids killing kids is always really tough no matter how much you show.
"Fortunately, I didn't have to deal with that because this time in there's far less human-on-human violence, the arena is more of a threat and the tributes [fighters] are now adults - the youngest that are in there are Katniss and Peeta. That alone makes it a completely different ball game."
In the UK, The Hunger Games: Catching Fire has been rated 12A after being passed uncut by censors.
The BBFC report said the film contained "moderate violence and threat, and infrequent strong language".
Cuts were made to the original Hunger Games film in 2012 in order to avoid a 15 rating in UK cinemas, which would have potentially decreased box office takings.
The first instalment of the franchise made £27.2m at the UK box office, and nearly $700 million (£441m) worldwide.
Most early reviews of The Hunger Games: Catching Fire have been glowing.
The Telegraph's Robbie Collins observed: "Set against many intellectually bloodless teenage fantasies, this is as juicy as a cut of sirloin... Is it too soon to say I can't wait for the next one?"
The Hollywood Reporter's Todd McCarthy called it "a safe, serviceable, carefully crafted action drama".
He went on: "As before, Jennifer Lawrence is the superb centre of it all and the massive success of this Lionsgate release is as certain as the turning of the Earth."
In a three-star review, The Guardian's Paul MacInnes said: "There's never quite the sense of satisfaction that the first film provided. You can feel the franchise dynamic chugging beneath, with the result that Catching Fire is not quite a full course, more of an amuse bouche, making its mammoth audience hungry for future, meatier instalments."