Lord Grade: Royal press charter 'bonkers'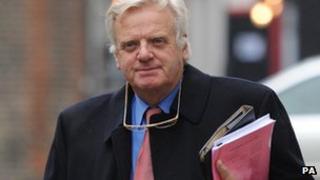 Former BBC chairman Lord Grade has called the cross-party royal charter on press regulation "bonkers".
He said that giving politicians "the opportunity to amend statutory press regulation cannot be in the public interest".
But Lord Grade also told the Society of Editors: "We should never forget where this sorry trail began: With journalists behaving badly."
"The press, in other words, has brought this situation on itself," he added.
In his speech, Lord Grade, who is currently a member of the Press Complaints Commission, said: "It certainly does at times seem as if tabloid journalists leave their humanity and their conscience at home when they head for the newsroom.
"You do wonder how some of them sleep at night."
The issue of press regulation emerged following the phone-hacking scandal and subsequent Leveson Inquiry into the ethics and practices of newspapers.
Lord Grade accused MPs of being "comprehensively hijacked" by the Hacked Off lobby group, which led the campaign for tighter press regulation.
Its high-profile supporters included a number of celebrities who were victims of alleged phone hacking, including actors Steve Coogan and Hugh Grant.
"So eager were our elected representatives to show just how deeply they shared the public's outrage, that they handed what looked like a veto on [press regulation] to the unelected representatives of Hacked Off as they drafted," Lord Grade said.
The new royal charter on press regulation was granted by the Privy Council in October. It will create a watchdog to oversee a new press regulator.
Media organisations will be free to sign up or stay outside the new system of regulation.
But, Lord Grade argued, news editors "must be accountable publicly" through independent regulation, adding, "they must be prepared not only to argue the public interest in publishing, but also to defend the ethics of their news gathering."
Political interference, Lord Grade added, would cross "a red line".
Using the BBC - of which he was chairman from 2004-2006 - as an example, Lord Grade said MPs debate but do not vote on the licence fee, despite it being a publicly-owned broadcaster.
This, he insisted, "protects the editorial freedom of the BBC from political interference".
But "as things now stand, Parliament will have more right to interfere in the editorial freedom of the press than it does in the editorial freedom of the BBC".
"Bonkers, or what?"
'Open minds'
He said that, while the new charter will offer protection from exemplary damages for those who volunteer to sign up, "the implication of this is, of course, that those newspapers who don't sign up will run the risk of incurring those exemplary - or rather, punitive damages."
"In other words," he continued, "There's a carrot to attract the press, but there's also a stick - potentially a very large and very expensive stick - available to beat up the press who don't like the look of the carrot."
The Society of Editors, founded in 1999, represents almost 450 national, regional and local newspapers, magazines, broadcasters and websites.
It campaigns for media freedom and freedom of expression and information.
During his speech, Lord Grade voiced his support for the Independent Press Standards Organisation (Ipso), which has been put forward by a group of major newspaper publishers.
Its proposals include the power to investigate serious and systemic breaches of its code, even if no complaints have been made, and the power to levy fines of up to £1m.
"Let's really get behind Ipso and get it up and running as soon as possible," he said. "Let's keep our minds open and let's be prepared to tighten things up if experience shows it's necessary.
"Above all, let's do our damnedest to restore public confidence."