Geri Halliwell ditches performance of flop Australian song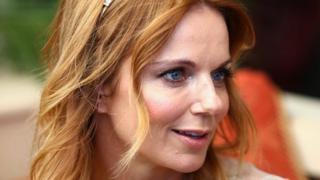 Singer Geri Halliwell ditched a performance of her comeback song on Australia's Got Talent final after it stalled in the charts.
The former Spice Girl, who is a judge on the show, opted to sing a version of the group's debut hit Wannabe.
Half of Me sold just 393 copies, leading Halliwell to write on her blog: "I'm not afraid to say - I lost!"
She added that her replacement choice of song felt "honest, just like home, for you and I, for all of us."
The singer said that when she heard the news of her chart placing, she "laughed nervously, God that's really bad!" and admitted that "deep down" she was "gutted".
She went on to explain that performing the song "with gusto" might push it higher in the charts, but it would be better to admit that it hadn't "connected" with the Australian public.
The Australian singles chart was topped by X Factor winner Dami, whose song shifted more than 44,000 copies.
The performance of Halliwell's comeback is in stark contrast to her earlier solo career, which boasted a string of chart-topping hits in the UK and around the world, including Bag It Up, Mi Chico Latino and a cover of The Weather Girls' It's Raining Men.