Fox greenlights new Seth Macfarlane show Bordertown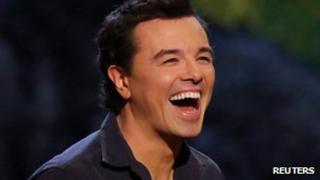 The Fox TV network has given the go-ahead to a new 13-episode animation called Bordertown by Family Guy creator Seth MacFarlane, according to TV Guide.
The show centres on two families living in a small town along the US-Mexico border.
One is headed by a border patrol agent, the other by an industrious Mexican immigrant.
It is the first new animation from MacFarlane since Family Guy spinoff The Cleveland Show in 2009.
The comedy writer, who scored a box office hit with the profane, surreal comedy Ted, also hosted this year's Oscars - to decidedly mixed reviews.
Bordertown has been co-created by Family Guy executive producer Mark Hentemann, and is due to be aired in the US next year.
In May this year, it was reported that The Cleveland Show was to be cancelled.
MacFarlane's American Dad, now in its tenth season, is set to move from Fox to rival broadcaster TBS.