Downton Abbey to get fifth series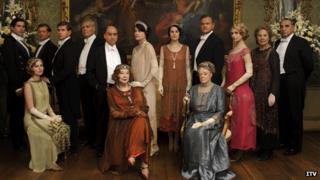 ITV period drama Downton Abbey has announced a fifth series, as the fourth series of the hit show draws to a close.
"We promise all the usual highs and lows, romance, drama and comedy," said Gareth Neame, director of Downton Abbey creators Carnival Films.
Julian Fellowes will return to write the series, which is expected to air next year.
The latest series has had average viewing figures of 11.8 million.
"With Julian writing and Gareth (Neame) and Liz (Trubridge) producing, we know it will be as warm, witty, romantic and dramatic as previous series and we can't wait to catch up with our favourite characters again," said ITV's director of drama commissioning, Steve November.
Downton Abbey debuted on British TV screens in 2010 and has since been sold in more than 220 territories.
12.3 million Americans tuned in to the finale of series three in February, making it the highest-rated show of the day, and breaking the viewership record for broadcaster PBS.
Christmas special
In June, it was announced that Oscar-nominated US actor Paul Giamatti is to join the cast of Downton, starting with the Christmas episode.
He will star alongside Elizabeth McGovern as Harold, the "maverick, playboy" brother of Lady Grantham.
Shirley MacLaine will also reprise her role as Martha Levinson - Lady Grantham's mother - in the Christmas special.
The current series sparked controversy over a storyline that saw housemaid Anna attacked and raped by a guest's valet.
The broadcaster received 200 complaints after the show was aired on 6 October, while media watchdog Ofcom received 250.
However the watchdog later said it had decided not to pursue the complaints "after careful assessment... because they did not raise issues warranting investigation".