Donna Tartt's The Goldfinch is Amazon book of the year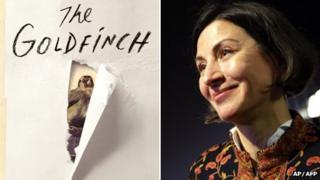 The Goldfinch, the new novel from bestselling author Donna Tartt, has topped Amazon's list of the 100 best books of 2013.
Editors at the online retailer said the story of a 14-year-old boy surviving in Manhattan after the death of his mother was "hands down" the team's top choice.
"The Goldfinch is an emotionally trenchant masterpiece," said Sara Nelson, editorial director of books.
Khaled Hosseini's And The Mountains Echoed was in second place.
The saga, about a father in Kabul who gives his daughter to a wealthy man, follows the Afghan-American author's hit novels The Kite Runner and A Thousand Splendid Suns.
"As a sweeping epic, family tale, it was best in show," said Nelson.
The top choices on the list include fiction and non-fiction works, a collection of short stories, a young adult novel and an account of being held captive in Somalia.
Tartt's number one novel is her first book since 2002's The Little Friend, which followed her much-loved 1992 debut, The Secret History.
In third place on the list was Pulitzer Prize-winning journalist David Finkel's Thank You for Your Service, a non-fiction book about soldiers returning home from war.
"Finkel gets inside the families of these guys that have come back after horrible, horrible experiences in Iraq and Afghanistan," said Nelson.
Kate Atkinson's Life After Life and Tom Kizzia's Pilgrim's Wilderness: A True Story of Faith and Madness on the Alaska Frontier completed the top five.
Amazon also voted on its favourite books by categories, with the full list available here.