Little Mix tackle Smash Hits interview questions
By Mark Savage
BBC News entertainment reporter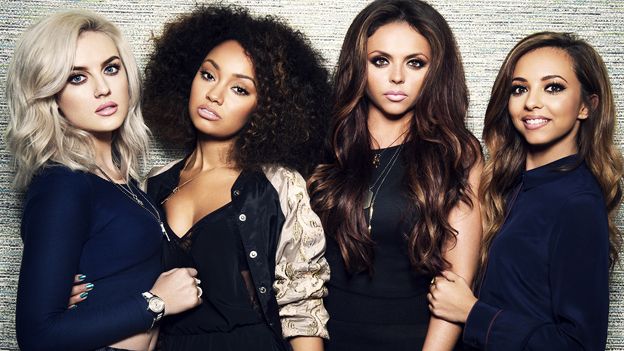 2011's X Factor winners Little Mix have come a long way in a short time.
They've sold more than three million records in just over 18 months, and their debut album, DNA, charted at number four in the US - breaking a girl band record set by the Spice Girls.
"We just couldn't believe it. I wanted to cry," says singer Perrie Edwards (high notes, engaged to Zayn from One Direction).
"Americans just seem to be fascinated by British people in general," adds Jesy Nelson (impressive vibrato, terrifying mane of hair).
"Even just the accent. They're fascinated by the way we speak".
The quartet, completed by Leigh-Anne Pinnock (former waitress, huge grin) and Jade Thirlwall (quietly-spoken Geordie, constantly stifling yawns), have just released their follow-up album, Salute - a crisp, smart collection of pop songs inspired by the vocal harmonies of Destiny's Child and En Vogue.
In honour of their US chart victory, we decided to ask Little Mix the questions Smash Hits magazine once asked the Spice Girls.
"Oh my god, that is so fun!" shrieks Perrie. But then, she hasn't seen the questions yet.
SMASH HITS: Have you ever played Spin The Bottle?
Leigh-Anne: Of course! Who's not played spin the bottle? But I never done the kiss version. I always wanted to, but I never did. We did the truth or dare one instead.
But I always thought, what if they don't want to kiss you? Or what if they've got a weird thing on their lip? You'd have to run.
SMASH HITS: Can you bite your toenails?
Jade: [adopts unnatural yoga pose] Oh my God, I can! I'm really happy about that. I'd never do it, though. I'd get some sort of fungal infection in my mouth.
SMASH HITS: What's the best phrase you've picked up in another language?
Perrie: Geki oko punpun maru! It just means that I'm cross with you, but in a cute way, in Japanese. You know how in Japanese everything's cute? Kawaii! So when you're angry with someone, you just have to be cute!
Leigh-Anne: I like Yabai! That just rolls off the tongue. It means sick, wicked in Japanese.
SMASH HITS: What's the most embarrassing thing you've ever done to impress someone?
Jesy: When I was younger, there was a guy and he was really good at skateboarding. So I got on a skateboard and thought that I could do it, and went flying down the hill and broke me arm in front of him.
Jade: Did you cry in front of him?
Jesy: Yeah it was horrible. I was so uncool. I thought he would love a little skater chick.
SMASH HITS: Do you ever wear other people's clothes?
Perrie: I wear boy's clothes. I wear Zayn's clothes but that's about it.
I literally have a clearout every two months and I give all my clothes away to my little cousins and stuff. And they just buzz off it. If I was younger, and my cousin or sister was in Little Mix, and they gave me all their hand-me-downs, I'd be the happiest girl in the world.
After your X Factor performance, someone wrote on YouTube: "This is the true amount of skin that should be shown, not like other artists, who are pretty much naked".
Perrie: It's a compliment. We don't want to gyrate on the floor with no clothes on, but we do want to look sexy. We're 20-odd years old, so we want to look nice and pretty and cool, but we do it in a way that's more mature.
SMASH HITS: Tell us about the single, then
Jesy: Move is about not taking yourself too seriously, just letting yourself be free and having a good old boogie-woogie on the dancefloor, and not being too cool for school.
Perrie: Which is what Little Mix are all about.
Are you always the first on the floor?
Perrie: First on the dancefloor and the last to leave.
What's the one song that'll get you up?
Leigh-Anne: Diamonds. Oh my God, I feel like I'm Rihanna when I'm dancing to that.
Jade: What's that song "duh, duh, d-duh, d-duh, My heart beats like a drum, boom boom, boom boom?" [she means Kelly Marie's Feels Like I'm In Love, fact fans].
SMASH HITS: What's the album like?
Perrie: It has a military feel all the way through.
Is it true you had less time to record it than your debut?
Perrie: We had plenty of time to write it, but 12 days to actually record all the vocals.
Leigh-Anne: It was a gruelling process but do you know what? We got through it.
Jade: So, we'll write the song with the beat and the production and stuff. Then once we've got a solid song it'll be like a demo - it might have our vocals on, it might have someone that we're writing with on it. Then we'll go back in and perfect it.
Can you ever see yourselves producing your own album?
Jade: I'd love to but, I mean, it's all on computers and that.
Leigh-Anne: I can just about press play and pause.
Jesy: We come up with so many ideas and sounds. That we can do. But I don't know about actually putting it together on the actual computer.
Perrie: We don't miss a trick, though. Our label will come to us with a finished song and it'll be a different production, and we'll be like, 'what have you done! That drum beat's different, and what's that horn doing there?' And they'll be like, 'gosh, you literally don't miss anything.'
Leigh-Anne: And that's why we've produced such an amazing album.
SMASH HITS: Does the path of excess lead to the palace of wisdom?
Jesy: The path of what? Lead to what?
I think it's asking whether you can discover things about yourself by over-indulging.
Jesy: So can I learn from my mistakes? Yes, definitely, of course I do.
What's the worst mistake you've made that's taught you a lesson?
Perrie: Do you know what it is, right? When we do interviews and we get asked the same questions over and over, I'm like, 'I wish we'd get asked something different'. But when we do, I have no idea. I'm not prepared. Because it's hard to remember your own life!
SMASH HITS: Geri, why did you fib about your age?
Jesy: Did she really? Did she say she was younger?
Of course! You never make your showbiz age older.
Perrie: People do lie about that, though, don't they?. Remember that girl on the X Factor ages ago? She auditioned, she got all the way through, but she couldn't do it because she was 16 and the age limit was still 18.
Do you still get ID'd when you buy alcohol?
But surely people know who you are?
Jade: I think they ask just to make sure it's you.
Perrie: I was out with Anthony [Riach - Zayn Malik's best friend] and I went to the counter and the girl said, 'have you got any ID?' Anthony just went, 'Wikipedia her ass'.
I was like, 'oh my God!' I would never say that myself, but it was so funny.
Leigh-Anne: This is why I don't take ID to clubs - just in case they ask for it, then I can go, 'search me on Google, man'.
SMASH HITS: Do you read all your fan mail?
Perrie: Well, we get a lot of fan mail and it gets sent to the office - so we never see it for ages, and then we have one day of going through it all. And it is mental.
But our fans are absolutely incredible. Some of the gifts they send us, and the letters, everything is so amazing. We try and reply to as many fans as we can, especially on Twitter.
That's the big difference between you and the Spice Girls. Back then, the only way a fan could get in contact was by sending a letter. But you seem to spend half your lives doing webchats and social networking.
Jesy: We have to get the fans involved. They need to feel like they're a part of our journey. That's why they love us so much - they just relate to us.
You always come across like regular people - but I note that two of you are wearing sunglasses indoors…
Perrie: Only because we look ROUGH.
Jesy: Yeah, we're very tired.
SMASH HITS: Would you ever have plastic surgery?
Jade: I think people end up looking older when they get all that work done.
Jesy: Some people have had Botox and they're so young. I just think 'why are you doing it?'
Perrie: But we don't know how we're going to feel when we're 40.
Jesy: Whatever makes you happy. If it makes you feel better about yourself, then I'm all for it.
Perrie: Do you know you can get stuff in your feet? You get Botox put in the bottom of your feet, so when you go on nights out, your feet don't hurt. Do you know how weird that is?
Leigh-Anne: But you see Botox? They don't really know the long-term effects of it. That's what scares me.
I'm not sure I'd ever want to put botulism in my body.
Leigh-Anne: Sorry, what is botulism?
It's a toxin you can get from eating undercooked or diseased meat. It basically causes paralysis - and they use a sort of sterilised version of it in Botox injections.
Leigh-Anne:WHAT? Does it, like, wear off?
Leigh-Anne: That's mad. I couldn't do that to myself.
And that concludes your lessons for the day!
Perrie: Thank you! You're like a science teacher!
Little Mix's album, Salute, is out now on Sony / Syco Records.
Related Internet Links
The BBC is not responsible for the content of external sites.