'Bring back Morph' campaign reaches target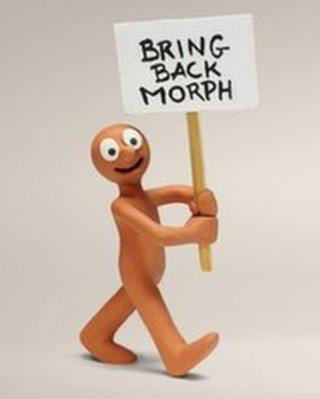 A crowd-funding campaign to bring back clay character Morph for an online series has reached its target after eight days.
Aardman Animations set up the £75,000 campaign on Kickstarter to help fund 12 new one-minute episodes.
Morph was one of the first characters created by the company that later brought us Wallace and Gromit.
Aardman co-founder Peter Lord said he was "humbled" and "terribly grateful" to all of their new backers.
The campaign reached its 22 days ahead of schedule after 1,690 fans pledged amounts ranging from £1 to £5,000 in support.
Lord said he was "completely amazed" by the reaction to the campaign to bring Morph back, which reached its target .
"I had no sense that it might run this fast. There's a lot of affection out there, from a lot of people over a lot of years, because he's been going a long time," Lord said about the strength of feeling towards the character - named after his "metamorphosing capabilities".
"There are people kind of my age, that watched it with their kids a long time ago and then there are the children and grandchildren of them. A lot of people have come to like him."
Aardman hope to start production on the new episodes, and "get the Plasticine warmed up" in January.
More episodes
Lord said he hoped the success of the campaign would mean they could extend the project.
"I think we can afford to keep on funding our half, so I guess the obvious thing is to make more episodes," he said.
"I have to work out all the maths, but if we can make 15, if we can make 20, that would suit me down to the ground because that's the fun part for me."
The Kickstarter project will remain open for the full 30-day funding period until 28 November for further pledges.
Those who contribute are eligible to receive various rewards, including a DVD of all the episodes made and a box of clay from Aardman's model making department.
They can also contribute story ideas for Morph episodes, although Lord admits he "can't help" thinking of his own.
"I do think new technology will be fun, and a smartphone will be a great prop for Morph," he suggested.
"In the past he's done surreal stuff where he had a picture frame and you raise the question, is that a portal to another world? I think you can do the same thing with the smartphone, getting stuck inside, I can imagine that."
Lord continued: "Because him and his brother, or arch enemy or alter ego Chas are always squabbling, there might be some comedy to be got from the fact that one of them has a really rather old mobile. A phone duel, that sort of thing."