Hunger Games: Catching Fire gets uncut 12A rating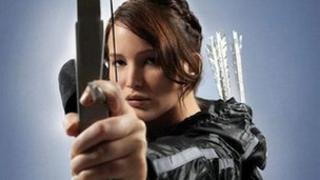 The Hunger Games: Catching Fire, the second instalment of the sci-fi film series, has been rated 12A after being passed uncut by censors.
The BBFC report said the film contained "moderate violence and threat, and infrequent strong language".
Cuts were made to the original Hunger Games film in 2012 in order to achieve a teen-friendly rating in the UK.
The latest film, starring Oscar-winner Jennifer Lawrence, is out in the UK on 21 November.
The BBFC report also revealed that the sequel, directed by Francis Lawrence, runs to 146 minutes and 2 seconds.
The movie series is based on the best-selling trilogy of novels by Suzanne Collins.
Set in a post-apocalyptic America where adolescents fight to the death on live TV, the cast includes Woody Harrelson, Lenny Kravitz and Donald Sutherland.
The first instalment of the franchise made £27.2m at the UK box office, and nearly $700 million (£441m) worldwide.
It had faced a 15 certificate in the UK, until its distributor Lions Gate UK chose to make seven seconds of cuts - included the digital removal of "blood splashes" - in order to achieve a lower rating.
"These cuts were made in addition to reductions already made following an earlier 'advice' viewing of an incomplete version," the BBFC noted at the time.
In the US, The Hunger Games was rated PG-13 for "intense violent thematic material and disturbing images - all involving teens".
Two further instalments in the series - both based on Collins' final novel The Hunger Games: Mockingjay - are due for release in November 2014 and November 2015.