Sadler's Wells plans new dance venue in London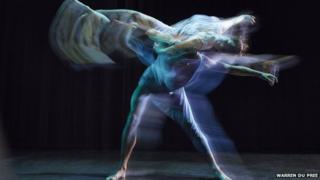 Sadler's Wells plans to create a new venue it hopes will help establish London as a global centre for dance to rival New York and Paris.
The search has begun for the site of the 500-seat theatre, which could open as early as 2018.
Sadler's Wells' artistic director Alistair Spalding said the plan was a result of "frustration" with not having a medium-sized venue to stage work.
"Dance is a really strong art form," he said. "We deserve proper spaces."
Mr Spalding made the announcement on Tuesday as he unveiled a 10 Year Plan, which included investing £5 million in commissioning new dance work.
"New York and Paris were seen as the leading centres of the art form. I believe that is no longer the case and my ambition is to make London the greatest centre for dance," he said.
Fundraising for the new dance venue is due to begin in late 2014. Mr Spalding said the size of the new venue meant it would not make money, and would require some extra subsidy.
He said it was too early to go into detail about the budget, but it was "not anywhere near" a suggested £100m.
"The public appetite for dance has never been greater. We want to respond to this, and give the creative talent in this country a proper chance to develop for the future growth of the art form.
"To achieve this, we need to be able to expand beyond our current base - without losing the unique quality and atmosphere that is associated with Sadler's Wells," Mr Spalding said.
He said the new theatre would not be "luxurious", but "a contemporary space that young audiences will enjoy".
The new theatre will work in tandem with Sadler's Wells' three existing theatres: The 1,500-seat main house and 150-seat Lilian Baylis Studio, in Islington, north London; and the 1,000-seat Peacock Theatre in the West End.
Since its major, lottery-funded rebuild in 1998, more than 4.5 million people have visited Sadler's Wells.
According to the new annual report, the dance house raised £23.8 million in 2012/13 and for every £1 of subsidy generated £10.
Highlights of the 2014 Spring/Summer season include Tanztheater Wuppertal Pina Bausch, who visit in February with 1980, a rarely-performed piece by Pina Bausch; and Brasil Brasileiro, a World Cup-inspired show with 35 performers from Rio de Janeiro.