Joanna Yeates' landlord focus of new ITV drama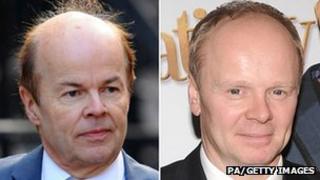 Christopher Jefferies, the landlord wrongly held over the 2010 murder of landscape architect Joanna Yeates, is to have his story dramatised by ITV.
Written by Peter Morgan and directed by Roger Michell, The Lost Honour is now filming in Bristol.
Jason Watkins, from BBC Three's Being Human, will play the former teacher.
Michell, a former pupil of Jefferies', said the two-part drama would be "a vivid and ultimately uplifting account of a man who was wrongly accused".
"It's a story that celebrates our right to be eccentric," continued the director of Notting Hill and Le Week-end.
"It also, as it happens, is the story of a rather brilliant man who was once my English teacher."
"No one will ever forget the man with the eccentric hair who became so connected with the murder of Joanna Yeates," said Morgan, Bafta-winning writer of Frost/Nixon and The Queen.
"I want to make sure that no-one forgets the same man who was acquitted, and who fought back to clear his name, and became a very British kind of hero."
'Frenzied campaign'
Mr Jefferies was arrested after the 25-year-old was found dead in December 2010 but was eliminated from the inquiry several months later.
His detention over the murder sparked massive press interest and he later successfully sued a number of newspapers for libel.
In 2011, he told the Leveson inquiry into media ethics that the media had "shamelessly vilified" him and that there had been a "frenzied campaign to blacken his character".
Earlier this year, Christopher Jefferies received a letter from Avon and Somerset Police apologising for the distress he suffered during the probe into Yeates' death.
He is set to be played in the drama by actor Jason Watkins, a member of the National Theatre company who has previously starred in Doctor Who and The Wrong Mans.
Dutch engineer Vincent Tabak, Ms Yeates' neighbour, was jailed for a minimum of 20 years in October 2011 after being found guilty of her murder.