Goodnight Sweetheart: Musical future for time travel show?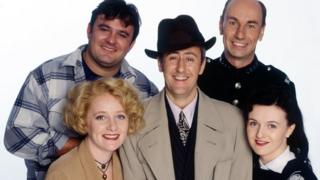 Twenty years after the first episode of sitcom Goodnight Sweetheart, its creators still hope it will return, as a stage musical.
Comedy writers Laurence Marks and Maurice Gran say that while there are no plans to bring the show back to the small screen, they are "some way down the line of doing a stage musical".
They have long had the desire to bring Goodnight Sweetheart to the stage, and a musical version would follow their other musical projects Dreamboats and Petticoats and Save the Last Dance for Me.
Goodnight Sweetheart was first broadcast on BBC One on 18 November 1993.
It starred Nicholas Lyndhurst as married television repair man Gary Sparrow who discovers a time portal down Duckett's Passage in London's East End and is mysteriously transported back to Blitz-torn London in 1940.
In the first episode he wanders into the Royal Oak, which he initially mistakes for a World War Two theme pub.
He is instantly attracted to Phoebe Bamford, the daughter of the grumpy landlord. After an air-raid occurs, Gary comes to realise that he's not dreaming and really has gone back in time. He begins to live a double life in both the 1940s and the 1990s.
Speaking on the eve of the show's 20th birthday, Gran recalls how he pitched the idea to the BBC head of comedy in the early 1990s. "I said, basically it's a story of a man who's in love with two women, but one of them is at least 80 and might well be dead."
Goodnight Sweetheart ran for six series on BBC One between 1993 and 1999.
The initial cast included Michelle Holmes as Gary's wife Yvonne Sparrow, Victor McGuire as his best friend Ron Wheatcroft, while his war-time companions were Christopher Ettridge as bumbling PC Reg Deadman and Dervla Kirwan as Phoebe.
One of the running gags of the show is that Gary entertains the war-time locals with hit songs from The Beatles and Elton John, which have yet to be written.
He also reinvents himself as a British spy who has spent time in America. In the 1990s, Gary's wife Yvonne is unaware that her husband is a time-travelling adulterer, with only Ron in on the secret.
"When all is said and done, it was really comedy about adultery," says Marks.
"Because he thinks it's a dream at first," adds Gran, "we realised this gave Gary carte blanche to act in an uninhibited way and pretend to be a songwriter and spy.
"In the past he's a hero, and in the present he's a nobody."
The challenge for Marks and Gran was how to make the duplicitous Gary Sparrow keep the sympathy of the audience.
"We knew that in order to make this show succeed we could only cast Nicholas Lyndhurst - because we felt everyone loved him and that no matter what he did people would continue to love him."
At the time he was cast, Lyndhurst was already a huge star from playing Rodney Trotter in Only Fools and Horses.
Marks and Gran's other TV shows include Birds of a Feather, Relative Strangers, The New Statesman and Shine on Harvey Moon.
They decided from the outset that the reason why Gary Sparrow could travel back to the 1940s was "a question we resolved never to answer".
In the third season of the show, Gary sets up a WW2 memorabilia shop in a plaza that has been built on the site of Duckett's Passage. His stock consists of items brought back from war-time London.
Like other time travel stories, Goodnight Sweetheart raises questions about the effect that visiting the past can have on the future.
Comedian Richard Herring, a self-confessed obsessive of the show, has bemoaned Garry Sparrow's paucity of ambition.
"He could have become the wealthiest man in the world or killed Hitler, or at least checked out the next pub down the road to make sure that the barmaid there wasn't better looking," he wrote earlier this year.
"Gary changed the lives of the people he came into contact with, he couldn't change events," asserts Marks.
"We never once sat down and said, 'Why don't we write an episode where he kills Hitler?' No. It was a domestic comedy. It was a love story."
Twenty years on from its first episode, Goodnight Sweetheart still enjoys a devoted fan base.
"It's left a huge lasting impression all over the world judging by the emails we receive," says Marks.
Among the dozens of emails that arrive each week are many requesting a special episode that catches up with Gary, who [SPOILER ALERT - skip this bit if you don't want to know how the series ends] who was last seen on VE Day in May 1945.
"The reason we stopped it when the war ended is that it needs jeopardy to drive it," explains Gran.
So what are the latest plans for the stage version of Goodnight Sweetheart? The writers say it could come as early as 2014 and would feature music from the 1940s and the 1980s.
"It would reflect the series," says Marks. "It would be a much more elaborate story and it would contain the same characters.
"I think there is life in Gary Sparrow yet."