Martin Scorsese and David Hockney honoured at LA gala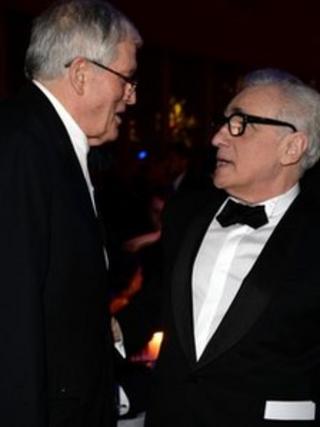 Film director Martin Scorsese and artist David Hockney have been honoured at a star-studded event at the Los Angeles County Museum of Art (Lacma).
The pair were honourees at the museum's annual Art+Film Gala, designed to bring the two industries closer together.
Scorsese was praised for helping to save the museum's film programme from being cut and for his work on film restoration.
Hockney was recognised for the way he captured the city through his artwork.
"I first arrived in Los Angeles, almost 50 years ago in January 1964, and they were just putting up this building," the 76-year-old, who lived in California for nearly three decades, said in a brief speech.
"It's the only encyclopaedic museum in Southern California and deserves your support."
'Cinema is necessary'
The artist's Seven Yorkshire Landscape Videos exhibition - created by mounting cameras to a car while he drove through the countryside - is currently on show at Lacma.
The gala raised $4.1m (£2.6m) for Lacma's film programme, which was first introduced in 1965, but was hit by the financial crisis in 2009 and was forced to stop its weekend screenings.
At the time, Scorsese was a vocal critic of the move and wrote an open letter to museum director Michael Govan saying he was "deeply disturbed" at the decision.
"Marty was very vocal when we announced that we were pausing our film programme a few years ago during the economic meltdown," Mr Govan said at the gala.
"When he learned that we really wanted to rebuild and expand our programme, he was the first person who offered to help."
Scorsese has been an advocate for film preservation and founded The Film Foundation in 1990 to help the cause.
The Goodfellas director also presented the restoration of four films by French film-maker Agnes Varda at the gala and appealed for help in preserving film from the ravages of time.
"What is cinema? For me there is only one answer. Cinema is necessary. Please don't forget it," he said.
Stars at the event, hosted by Leonardo DiCaprio, included Tom Hanks, Drew Barrymore, James Franco and Warren Beatty, while Sting provided the night's entertainment.