Downton Abbey to face no action from Ofcom over rape storyline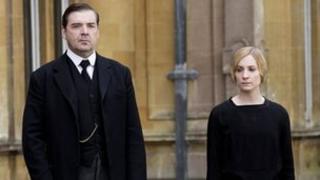 Broadcasting watchdog Ofcom is to take no action against Downton Abbey over its contentious rape storyline, despite receiving 244 complaints from viewers.
The regulator said it had decided not to pursue the complaints "after careful assessment... because they did not raise issues warranting investigation."
Some viewers complained to ITV about the storyline, which saw housemaid Anna attacked and raped by a guest's valet.
The broadcaster received 200 complaints after the show was aired on 6 October.
A warning alerting viewers to the upsetting scenes was broadcast before the episode, which was seen by an audience of almost 12 million.
An Ofcom spokesperson said the warning had been into account, as well as the fact that the controversial scene was broadcast after the 9pm watershed.
The fact that the attack itself took place off-screen also played a part in the regulator's decision.
Downton Abbey creator Julian Fellowes has defended the storyline and its treatment, insisting it was neither gratuitous nor sensationalist.
"Downton deals in subjecting a couple of characters per series to a very difficult situation and you get the emotions that come out of these traumas," he told the BBC.
Joanne Froggatt, who plays Anna May Bates, has also defended the plotline, saying she was "proud" the show could tackle such a weighty subject.
The fourth series of Downton Abbey reaches its conclusion on Sunday.