Ender's Game tops US box office chart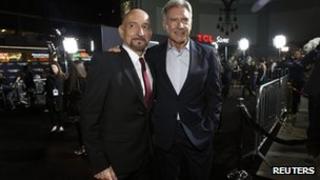 Sci-fi adventure Ender's Game has zoomed to the top of the US box office chart in its debut weekend.
Jackass Presents: Bad Grandpa, about an 86-year-old and his eight-year-old grandson, was shunted into second after hitting the number one spot last week.
Ender's Game, a story about children forced to fight an enemy race, took $28m (£17.5m) according to estimates.
The film stars Harrison Ford as a commander who manipulates a young boy (Asa Butterfield) into leading a war.
Double Oscar nominee Viola Davis plays Ford's second in command.
Based on the best-selling 1985 novel of the same name, Ender's Game was in line with box office forecasts which predicted it would take between $25m (£15.6m) and $30m (£18.8m) in its opening weekend.
This was despite calls by some to boycott the film after the book's author, Orson Scott Card, made some comments expressing his opposition to gay marriage.
But with the highly anticipated Thor: The Dark World opening next week, box office analyst Jeff Bock said: "It looks like Ender's Game is one-and-done... (next weekend) there won't be much of the box office pie left for Ender's Game."
Last Vegas, featuring an all-star cast including Robert De Niro, Michael Douglas, Morgan Freeman and Kevin Kline, opened in third place with $16.5m (£10.3m).
Rentrak's Paul Dergarabedian said: "It's interesting to see the number of stars that are not in their 20s in the top films.
"Ender's Game has Harrison Ford and Viola Davis, and Last Vegas is like a Hangover for the older crowd. Sandra Bullock and George Clooney - in Gravity - appeal to an older audience, and 12 Years a Slave... is a very sophisticated drama."
Children's animation Free Birds, which features the voices of Owen Wilson, Woody Harrelson and Amy Poehler, debuted in fourth spot with takings of $16.2m (£10.1m).
Thor's UK success
Gravity, now in its fifth week, rounded out the top five.
Thor: The Dark World, which opened in the UK last Wednesday, beat all contenders at the UK and Ireland box office this weekend, earning £8.65m in its first five days in cinemas.
Even without previews it was the comfortable victor, taking £5.54m between Friday and Sunday according to Screen International.
According to its distributor Walt Disney, its weekend takings exceeded the entire first week box office of the first Thor in April 2011.
Last week's top film, animated sequel Cloudy with a Chance of Meatballs 2, fell to second place with a second weekend tally of £2.1m.