James Arthur: I don't want to be a robot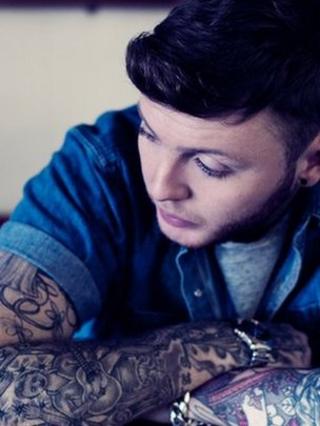 X Factor winner James Arthur talks about his mission to stay authentic, his dreams of working with Eminem and why he won't do media training.
It's almost a year since he clinched victory from Jahmene Douglas in the 2012 X Factor final, scoring the show's fastest-selling winner's single ever - and the biggest single of 2012 - with a cover of Shontelle's Impossible.
Now this week sees the release of Arthur's self-titled debut album.
So James, how does it feel to finally have your own album coming out?
I'm excited because I'm proud of it. I don't feel as though it sounds contrived or compromised, or overly produced or poppy or anything like that. I feel like there's pop songs on there but they're really - I hate using the word credible now - but they're really authentic-sounding. The words are coming from me.
It includes songs like Smoke Clouds and Suicide - not your average X Factor subject matter. Do you think you might genuinely be allowed to be yourself?
I didn't ever work against [the X Factor team] but I would challenge them and I don't think they were used to that. I knew exactly what I wanted to do, who I wanted to be, which market I want to appeal to. They realised that if they didn't give me the licence I required then they won't get the best out of me.
Emeli Sande co-wrote and sings on your track Roses. What was that like?
It was absolutely incredible for someone who was sat in his bedsit last year watching Emeli Sande on the TV. There is one artist in this country that is definitely for real, I feel like she just oozes artistry. They're the people I want to work with, people who understand that you have to be vulnerable when you're making music. You have to let your guard down and she does that so well.
Who's next on the list then?
I really want to work with Eminem. I know it will never happen, but I would love if he let me do a hook on one of his songs or he featured on one of my songs. It would be incredible. I've just always admired him since I was young. I admire the way he plays the media, the way he doesn't care what people think about him, yet he's so inspiring to so many people. And he's the best rapper on the Earth.
You mention the media. You've generated quite a few headlines yourself with things you've said recently - is that something you've done on purpose?
A lot of the time it's just me being me, in the heat of the moment. I don't think about consequences too much. I want to be an example to people, so that in five years' time people say: "James always said what he thought, what he felt."
I've done a few face palms after things I've said because it's stupid. But if I'm not like that I won't feel human anymore. I'll just feel like some robot saying what I'm supposed to say. I think that's when people lose it.
Has anyone tried to media train you?
I don't do media training. I don't do that.
But has anyone suggested that you do it?
Yeah. But what's the point in me getting up in the morning and coming in and speaking to 20 journalists and having a script in my mind? It's soul-destroying. I'd rather just have a chat. The media like to twist things, that's the way it is. The things I've spoken out on [X Factor hopefuls Kingsland Road, One Direction] are not important things. It's just popular culture.
But you have spoken about your own experiences - having panic attacks, contemplating suicide. They're big issues, aren't they?
You know when you read those things it looks like I've sat here and gone: "I've had such a bad year, I've contemplated suicide." But it's usually in passing: "Yeah, couple of meltdowns I had last year." I did feel like I could have fell on my face and never woke up again, but then it gets made to look like I've sat here crying to the journalist and it's not the case.
I'm just saying it's been hard, and it's the same with any profession. When you're under pressure you wish that you could just remove yourself completely from it.
It is a massive change in lifestyle though, you walking in here with a couple of stylists and all the rest of it...
Yeah, if I'd have sat there and said it's all been a walk in the park, nobody would believe you. It's hard, it's really weird. You can't have a night out any more because you see people getting more and more drunk and plucking up the courage to come and talk to you, and it kind of freaks you out. Even the people that you've grown up with.
It's like, "Really? I'm the same dude who puked all over the front room one night." I've heard how so many people come from shows like X Factor and never recover. I want to have forgotten about it in 10 years' time and had another life.
Some people are very critical of the X Factor format and cynical about people that come through it. Do you feel you have to fight back against that in a way?
Yeah, I think it's amusing that. It's like, "Why don't you just enjoy it?" It's entertainment, no one's trying to hurt anybody.
I'm a big fan of the show. I don't want to be seen to be going, "I'm too credible, the X Factor's not how I want to be associated", because I think people have made that error in the past and it just makes you look like a pretentious idiot. I'm really proud to have come from it. It can be the only way to launch people now.
On your UK tour next year you have an extra date in Middlesbrough. Why was that important to you?
It's going to be special because it's going to be the whole home town thing. They haven't had a show off me yet. I've only been there like twice [since winning X Factor]. I love where I come from. It's really important to give back to those people because they were probably the majority of people that voted for me, you know.
James Arthur is out now.