Luc Besson slams paparazzi for hounding Scarlett Johansson in Taiwan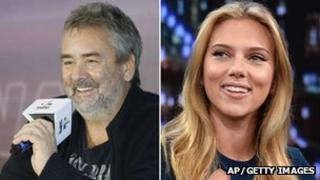 Luc Besson has attacked paparazzi in Taiwan for disrupting the shooting of his latest film by taking photographs of leading lady Scarlett Johansson.
At a press conference in Taipei, the French film-maker said shooting had been "a nightmare" due to constant press intrusion.
"I lost a bit of my concentration," admitted the Fifth Element director.
Besson spent 11 days in Taipei filming Lucy, in which Johansson plays a drug mule endowed with superhuman abilities.
It had been reported Besson's crew were nearly involved in a car accident last weekend with a vehicle driven by local press.
The alleged incident led the city's mayor to call on the media to exercise restraint.
Besson also singled out two unnamed agencies from Hong Kong for special condemnation.
'New dresses'
Speaking to reporters on Friday, Besson said it was his right to keep such details as Johansson's hair style and wardrobe out of the public eye until his film was released.
"We don't want pictures with new dresses of Scarlett," he said while denying reports he had wanted to leave Taiwan early in protest.
Photos taken of the 28-year-old actress on set have shown her sporting a blonde bob, a leopard print jacket and a cowboy hat.
No release date has been set for the movie, which will see Johansson appear alongside US veteran Morgan Freeman and South Korean star Choi Min-sik.
Besson's crime comedy The Family, starring Robert De Niro and Michelle Pfeiffer, is released in the UK on 22 November.