Arts funding: Should London get less?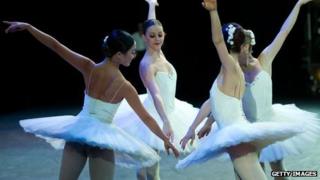 London gets the lion's share of government arts and culture funding in England, according to a new report.
With most national museums, galleries and theatres based in the capital, is that fair? Or should the rest of the country get a bigger slice?
Stephen Snoddy, director of New Art Gallery, Walsall
"This report is a timely reminder of the huge gulf in funding between London and the regions.
"Here in the West Midlands there is a long and distinguished history of success in the arts.
"But our regional arts organisations haven't had their fair share of resources. And with cuts in public funding looming over us, many of them, such as the New Art Gallery, will be struggling in the future. We're now at a tipping point where further reductions could be very damaging.
"It doesn't have to be like this - the report clearly sets out a way forward to rebalance our national arts funding. We need a fairer distribution which will be better for everyone and for the cultural health of England."
Neil Fisher, The Times deputy arts editor
"Arts provision across the country has to satisfy demand. Many of the UK's touring companies - for example Opera North, Scottish Opera, many of the orchestras, English National Ballet, Northern Ballet - all have problems filling the venues they already tour to.
"There is unfortunately a huge contrast between the appetite and performance level within London and the London area and the rest of the country.
"It's not true to say that we're just satisfying the population of London. London pulls in a huge number of people from outside London as well.
"Why would so many millions of people visit London every year if not partly for its world class museums and theatres? Are we seriously suggesting that money should be taken out of those museums and theatres and put into places in the rest of the country that simply aren't as visited and aren't as attractive to international visitors?"
Mark Skipper, Northern Ballet chief executive
"It's pretty appalling to hear [these figures]. For me it goes a step further. We also had recently a report saying 80% of philanthropy from trusts and individuals is going to London organisations.
"That's an awful situation. I've already taken serious steps and have just appointed a new director for fundraising who is going to be based in London. I felt the only way for us to get a fair share is to have somebody on the ground in London.
"In the last financial year, our main shows achieved 65% capacity across the country. We want to reach communities across the whole country. There are one or two cities that have pretty poor attendance levels but we feel those communities should have access to high quality dance. A lot of people can't go to London to see work.
"Our children's ballet The Ugly Duckling went to 20 cities - places like Hexham and Whitby and Berwick and Barrow in Furness, places that just do not get dance provision. That got 87.5% capacity."
Sir Peter Bazalgette, chair of Arts Council England
"I've been at the Arts Council for a few months. The trend is towards funnelling more Lottery money to the regions. That's been increasing over the last three or four years. I say judge us in two years time. We've got some major funding decisions to come.
"I don't really like the London vs the regions rhetoric. I prefer to talk about London and the regions. Even the arts organisations that are funded by us in London, 50% of them tour around the country. And three quarters of those productions are actually outside London.
"Likewise, if you take the National Theatre, it's set up this wonderful cinema network, NT Live. That's in 365 cinemas and is bringing the great arts and culture of London to the rest of the country.
"So it's not true just to make a very pedantic division of spending between London and the regions. Having said that, we could do more for the regions and should do more for the regions."
Roddy Gauld, Bolton Octagon theatre chief executive
"We should celebrate London's cultural scene and success, but the level of disparity between London and the rest of the country seems too great.
"The challenge for the Arts Council and the Department for Culture, Media and Sport is to protect London's success while becoming fairer to the rest of the regions, particularly as outside London we face something of a triple whammy.
"There is less access to sponsorship and philanthropy, local authorities have traditionally been bigger investors in culture outside London but of course face huge cuts, and now there's this evidence that both Treasury and Lottery spending is greater in London than outside."
David Jubb, artistic director of Battersea Arts Centre in London
"There does need to be a rebalance. It's also really important that arts organisations have this debate together and don't let it become a squabble.
"Ultimately we should all be making that case to the public and the government about the value of arts and culture.
"We are co-curating 36 festivals. There are seven partners working together around the country - us and in Hull, Darlington, Torbay, Great Yarmouth, Thanet and Gloucester. There are six festivals in each town over the next three years.
"Those towns have been identified as having quite low levels of cultural engagement. My dream is that those six producers and promoters, who we're helping out, will be able to develop their own strong cultural scenes. They'll be able to make applications then to the Arts Council and will develop reputations."