Radio 3 breakfast changes presenters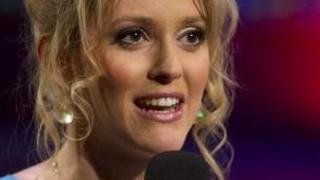 BBC Radio 3 weekend breakfast host Clemency Burton-Hill is to take over weekday breakfast presenting duties from December.
The 32-year-old will replace current host Sara Mohr-Pietsch, and will alternate her morning shifts with fellow breakfast host Petroc Trelawny.
Mohr-Pietsch has fronted the breakfast show for the past seven years.
She will move on to host the station's Sunday programme, The Choir, and its Monday lunchtime concerts.
"It's been a pleasure to be the voice that Radio 3's listeners wake up to," Mohr-Pietsch said.
"But after all those early mornings, I've decided I'm finally ready for a lie-in and a new challenge!"
Mohr-Pietsch will host her last show on 15 November and begin her Monday slot from 2 December. She will begin on The Choir on 5 January.
Burton-Hill, who has been a weekend presenter on Radio 3 for the past two years, said it was a "tremendous honour" to join the breakfast show.
"I'm a great believer in starting the day with a taste of classical music and I hope the works I'll be playing will set the tone for an inspiring and stimulating day," she said.
Burton-Hill has previously fronted BBC Young Musician and the BBC Proms, as well as appearing on BBC Two's Culture Show and BBC Four's The Review Show.
A trained violinist, she studied at the Royal College of Music and recently toured with conductor Daniel Barenboim as an honorary member of the West-Eastern Divan Orchestra.
She will begin hosting the weekday breakfast show from 2 December.