Mercury Prize: Q&A with winner James Blake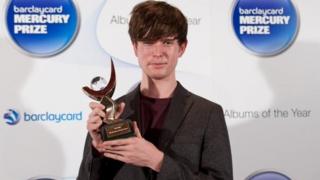 Singer-songwriter James Blake has won the Mercury Prize for the album Overgrown.
He first made waves in 2010 with the sparse, electronic CMYK EP, which sampled vocals from US R&B singer Kelis.
But it was his haunting cover of Feist's heartbroken ballad Limit To Your Love that really put him on the map.
Showcasing nhe North London musician's warm and soulful vocals, it remains his only top 40 hit to date.
A runner-up in the BBC's Sound Of 2011 list, he has seen both of his albums nominated for the Mercury Prize - although he lost to PJ Harvey in 2011.
Classically trained, he is the son of session musician James Litherland, who played with artists as varied as prog rockers Colosseum and 70s pop star Leo Sayer.
Blake says Overgrown was inspired by a transatlantic relationship, and all its trials and tribulations.
Featuring collaborations with Brian Eno and Wu-Tang Clan's RZA, it received high praise on its release in April.
Billboard magazine enjoyed how the musician "embraces a love for beautiful chords and moody atmospherics", while the Telegraph described the record as "music of emotion and imagination, shifting perspectives in ways that are deliciously intangible".
Judges at the Mercury Prize chose it as their album of the year, saying it was "an inventive, poetic and poignant album of great beauty".
Blake spoke to the BBC about recording the album, how the Mercury might affect his career - and the first text message he got after winning.
Congratulations on winning! How does it feel?
I feel really weird - jubilant and confused! It's a moment you don't really expect to happen to you. In fact, you might even bet against it if you're British.
Did you know that Lauren Laverne introduced you on stage as James Blunt?
That's happened quite a few times. But you know what? To Lauren I say: "Don't worry about it, you're amazing". I certainly don't care.
How does it feel to beat David Bowie?
I don't think I beat him. I've got the trophy in my hand, but he's written a lovely album and he can be very proud of that album. As well as his amazing career.
A lot of people do their best work when they're young - and it's always disappointing when they don't keep going and don't keep innovating. So David Bowie's an inspiration to people like me.
Do you feel you deserved to win?
I feel like I deserved it as much as anyone else did. That's the right answer isn't it?
Last time I was nominated, there was one woman who went out and bet thousands of pounds on me winning - and I didn't win. So I feel like part of this prize is owed to her.
Well, you've just got £20,000, so you could reimburse her...
Yeah, £5,000 is going to be winging its way to her house!
Have you been sent lots of texts by your friends?
Yes, all of my friends! Even friends I haven't seen for a long, long time. I feel very popular right now.
What was the best one?
The best one came from my parents, just saying "well done". I don't think they could say what they wanted to say in a text - it's too stupid a format, but I think they'll be proud.
You thanked your parents in your acceptance speech, and your dad used to be a session musician. How much did he encourage you?
He was a massive encouragement. He showed me how to do it - how to make my own album, how to stare people in the face and say: "This is my album, you're not changing it." And how to survive in the music industry. He had a hard time, and I learnt a lot from that. I owe almost everything to him, to both my parents.
How would you describe Overgrown to someone who's never heard it?
I made it in my room. You'll like it if you like it.
How does your second Mercury ceremony compare to the first?
It's better because I feel like I've been here before. I feel a lot more relaxed and my suit fits me better this time. But my shoes don't. My feet are being torn to shreds!
But no, it does mean more this time. It's confirmation that I can do what I want and get away with it.
Do you think the album is on the way out as a format? Sales have fallen by 6.5% in the last year?
When someone of my generation speaks to their parents, they go on about The White Album, and how they took that vinyl home and they all sat around the record player and listened to it - there is a nostalgia for those albums.
My audience don't really buy records - people my age don't especially buy records. There's too many distractions.
But one of the things that stops me selling lots of records is also the thing that put my album everywhere. I wouldn't be able to survive without the internet. I think if my album came out 10 years ago I would have dropped straight in the dirt.
How important is the album?
However many times you decide "I'm going to put on this album" - that's how important it is.
Really, though, music is important, full stop. I'm not sure it matters whether it's in the album context or not. That seems like a ridiculous thing to say at the Mercury album prize. But I'm in music, I release things in lots of different ways: EPs, singles, albums, online. It doesn't matter.
Finally, how are you going to celebrate?
Oh, I'm going to party!