Entourage movie gets the go-ahead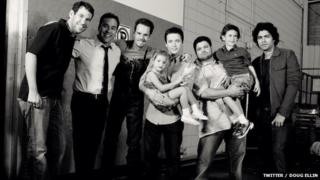 Cult US comedy series Entourage is to be turned into a movie, its creator Doug Ellin has confirmed.
"It's a go. Love you all," Ellin tweeted, alongside a photo of the cast.
His announcement ended months of speculation over the movie, which had apparently been delayed by contentious negotiations with the actors.
The series, which ran on HBO from 2004-2011, followed rising Hollywood star Vince Chase and his retinue of childhood friends.
Among them were Johnny "Drama" Chase, Vince's older brother and a less successful TV actor; schoolfriend Eric "E" Murphy, who acts as his manager; and Turtle - an accident-prone chauffeur and personal assistant.
The latter was played by actor Jerry Ferrara, who also shared the news of the movie spin-off on Twitter.
"I am proud to announce the Entourage movie is officially a GO!," he wrote.
"On behalf of the 4 guys I wanna also thank the #entourage fans for the patience. The BOYS are BACK," he added, before quoting an oft-repeated line from the show: "It always works out".
Produced by Mark Wahlberg, the series was a loose satire of his own experiences in Hollywood.
Most episodes featured guest stars, often playing themselves, as the four friends negotiated the pitfalls of fame.
Over eight series, it won six Emmy awards - most going to the show's break-out star Jeremy Piven, who played Vince's foul-mouthed, bad-tempered agent Ari Gold.
According to film trade magazine The Hollywood Reporter, he was one of the first to officially sign on for the movie, but his generous pay deal had prompted the others to hold out for better terms.
That protracted process delayed the film, putting it in danger of missing out on a lucrative California film tax credit - something that film studio Warner Bros. had "deemed conditional for its making".
The paper quoted industry insiders as saying the final contracts had still to be signed but "all the camps are confident".
Filming is expected to commence next January.