Sacked Bolshoi dancer gets top ballet job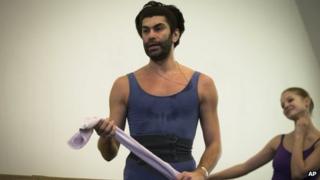 Dancer Nikolai Tsiskaridze, who was dismissed by the Bolshoi in a row over an acid attack on its director, has landed one of Russia's top ballet jobs.
The 39-year-old has been appointed acting director of the prestigious Vaganova Ballet Academy in St Petersburg.
Tsiskaridze had been unemployed since losing his job at the Bolshoi in June.
He had accused managers of fabricating the attack on Sergei Filin as an excuse to "conduct a witch hunt" against him.
Shortly afterwards, he called on the government to dismiss the entire management and appoint him as the theatre's general director.
In turn, the general director, Anatoly Iksanov, suggested Tsiskaridze contributed to an atmosphere of "mudslinging" and "constant intrigue" that led to the acid attack on Filin, which left him with severe burns to his face and potential loss of sight.
Iksanov, was eventually removed from his position, accused of mismanaging the Bolshoi's $1bn (£860m) renovation - which ran years over schedule and over budget.
But Tsiskaridze was also dismissed, after being issued with several reprimands for making critical statements about the theatre.
The trial of Bolshoi dancer Pavel Dmitrichenko and two other men, Yuri Zarutsky and Andrei Lipatov, for the acid attack case was opened and adjourned on 22 October. Mr Dmitrichenko denies arranging the attack.
'Surprise'
His appointment to the Vaganova Ballet Academy was announced by culture minister Vladimir Medinsky on Monday.
"Tsis­karidze is pre­par­ing thor­oughly to take up this post, bring­ing with him a wealth of teach­ing exper­i­ence, and his train­ing in the legal pro­fes­sion," he said.
But the announcement was something of a surprise to staff at the academy.
"They should have let the school know in advance," spokeswoman Yulia Telepina told the AFP news agency.
"People have worked here for many years and they deserve that."
The Moscow Times added that Tsiskaridze's move to St Petersburg was a "great loss for the Moscow ballet scene".
'Inseparable'
Founded in 1738, the school is one of the most prestigious ballet academies in the world, whose famous graduates include Rudolf Nureyev, Marina Semenova, Natalia Makarova, Mikhail Baryshnikov and Yury Grigorovich.
Known for its incredibly strict entry standards, it is a great rival to the Bolshoi academy - which may cause Tsiskaridze problems when he takes up his position on Tuesday, said state media.
However, his path may be smoothed by the simultaneous appointment of Uliana Lopatkina, a Mariinsky prima ballerina and former dance partner of Tsiskaridze, as an artistic director.
Speaking to Izvestia, he described Lopatknia as "one of the greatest ballerinas of the world" and said they would be inseparable.
He added that he was confident about handling the transition from performer to school governor.
"I do not understand why everyone is so surprised that a creative person can understand how to carry out the wiring and paint the walls," he said.