Fiona Shaw brings Colm Toibin play to Barbican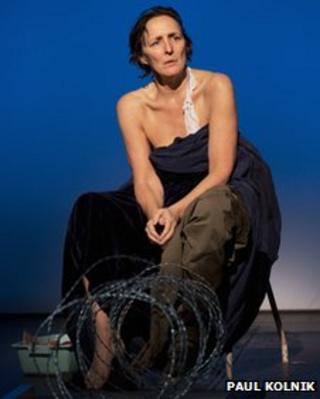 Fiona Shaw will bring her one-woman stage version of Colm Toibin's Booker-nominated The Testament of Mary to the Barbican as part of its 2014 season.
The London run in May follows a brief stint on Broadway earlier this year, during which Deborah Warner's show was nominated for three Tony awards.
Toibin said he was "delighted" the stage adaptation was coming to London.
His novella, which presents the mother of Jesus grieving, was shortlisted for this year's Man Booker Prize.
The Barbican's 2014 offerings will also include a film season curated by Jean Paul Gaultier to complement an exhibition honouring the fashion designer's achievements.
The venue will also host a concert celebrating music heard in the films of Sir Michael Caine - entitled Blow the Bloody Doors Off, after a famous line from his film The Italian Job.
Other highlights include Digital Revolution, a celebration of digital creativity in the arts that will feature work from pop star will.i.am and film-maker Christopher Nolan.
Italy's Toni Servillo will direct and star in the Eduardo De Filippo comedy Inner Voices, while the Cheek by Jowl theatre company will revive its successful productions of 'Tis Pity She's a Whore and Ubu Roi.
The 80th and 85th birthdays of British composer Sir Harrison Birtwistle and Dutch conductor Bernard Haitink respectively will be marked by a series of concerts.
The Royal Shakespeare Company, meanwhile, will continue their revived association with the Barbican by bringing upcoming productions of Henry IV Parts I & II starring Sir Antony Sher to the capital.
Sir Nicholas Kenyon, the Barbican's managing director, said its "commitment to offer world-class arts and learning for all" would be "taken to a new level" in 2014.
According to the venue, attendances for events this year exceeded the one million mark for the first time in the centre's history.