Chinese pianist Lang Lang becomes UN messenger of peace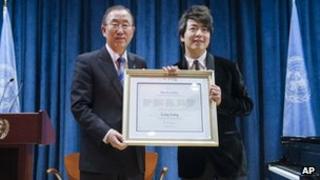 Award-winning Chinese concert pianist Lang Lang has been made a messenger of peace by the United Nations.
Lang Lang, who has been a goodwill ambassador for UNICEF for 10 years, will have a special focus providing education for young people.
The 31-year-old said he was "really awed" by his new role and the responsibility that comes with it.
A messenger of peace is the highest honour bestowed by the UN on accomplished individuals in any field.
Lang Lang joins 11 other prominent figures including Stevie Wonder, George Clooney, Brazilian author Paulo Coelho and conductor Daniel Barenboim who also advocate on behalf of the UN.
He is the first messenger of peace from China.
"Last night, I couldn't sleep thinking about it," he said.
'Children and music my passion'
"Playing concerts [is] one thing, but to give back to the society, I think is even more important as a human being," he said.
UN secretary general Ban Ki-moon said Lang Lang's focus will be getting the 57 million children around the world who are currently not receiving an education into classrooms - a key UN priority.
Mr Ban said Lang Lang first became interested in piano "as a three-year-old watching Tom and Jerry cartoons".
He is now "one of the most exciting and accomplished musicians of our time," performing with leading orchestras around the world, he added.
Once named as one of the 100 most influential people in the world, Lang Lang also works with talented students to help them to be musicians, through a foundation he established five years ago.
"Children and music are my passion,'' he said, adding that he hopes to expand the foundation's work in the US and the rest of the world, including China.
Lang Lang played Chopin's Waltz No 1 at the ceremony to mark his new job and was then asked whether he would be ready to go to Syria or another danger zone.
"When the time comes, I would love to do it," he said.