Romola Garai on Legacy and lads' mags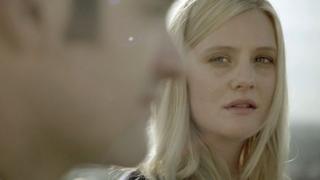 Romola Garai talks about her Cold War spy drama Legacy, how she felt when The Hour was axed, and why she is taking on so-called "lads' mags" and taboos surrounding pregnancy.
Last on our screens as Bel Rowley, the boss of a testosterone-heavy 1950s newsroom in The Hour, Romola Garai can now be seen in another trailblazing female role, as an MI6 spy in the 1970s in BBC drama Legacy.
"I want to play women with jobs, basically," Garai says of her own career criteria.
"It sounds like a very trite thing, but it's very easy to play female leads where the only thing you know about her is how she relates to the male. Whether or not she is pretty, or good in bed - she has no world of her own.
"If a writer is invested in a character enough to talk about what they do for a living, I think that's a good sign," the actress continues.
The 90-minute Cold War drama Legacy is penned by Paula Milne, the award-winning writer behind The Politician's Wife, The Politician's Husband and Endgame.
Garai plays Anna March, a mother and spy taking on the KGB alongside a trainee agent played by Charlie Cox.
The fact that Cold War espionage stories "never really have any female characters in them" was also attractive to the 31-year-old.
"Quite a few women had gone in to work for [MI6] during the war and stayed on," she says. "They had become very useful because they had been part of that world for so long."
Yet Garai admits it was the emotional aspect of Legacy that intrigued her, more than the prospect of any Spooks-style action scenes.
"If people lead double lives, they are emotionally changed by being a spy," she explains. "You want to see their lives and their families and their relationship with their children.
"Essentially this is a story about a father and a son, and his son finding out his father is a liar, and how that affects him."
Garai, a working mother, says "having the freedom to choose and not being judged" is the ultimate goal when it comes to juggling a work-life balance.
The actress played a 19th Century prostitute in The Crimson Petal and the White but is probably best known for The Hour, which was axed by the BBC after two series.
"I was crushed!" laughs Garai, admitting she fully expected the show to get a third series.
"Ratings-wise it never did do very well, and I understand that is pretty much the bottom line with these things," she continues.
The Hour has since won an Emmy for writer Abi Morgan, prompting hardcore fans to start an online petition to bring it back. It now has more than 25,000 signatures.
"I did feel like maybe the passion of the people who followed it would be enough," says Garai.
"But you know, the fact that I really wanted there to be another series obviously wasn't enough! So that's that."
Off-screen Garai has lent herself to an entirely different campaign - to rid supermarket shelves of so-called "lads' mags" and the "mass pornification" she says they represent.
The Lose the Lads Mags campaign - which hopes to get magazines like Nuts and Zoo banned from being sold in supermarkets - appealed to her because it is "very specific".
"Women's issues, the problems facing equality, can feel so incredibly insurmountable. Where do you even start?" she explains.
For Romola, the campaign felt like "an achievable goal".
"It would make people feel like 'I can go and buy crisps and a sandwich at lunchtime without having to look at porn'. That made sense to me."
Garai has faced a backlash in the press, partly due to the fact she herself has posed in her underwear in the past.
"There is pressure, but I was an adult," she says of the magazine features in question.
"I made the choice at that time, generated by a combination of ambition and a sort of weird fourth wave feminism where you feel like it could be empowering to you," she explains.
"But my experience was that it wasn't empowering and that I regret doing it."
"It's very easy for women to become comfortable with mass pornification, because it's an easier route than questioning it.
"Now, maybe because I'm a bit older, I would encourage women to do that, despite the criticism you'll get."
Pregnancy taboos
This is not the only subject about which Garai has helped spark feminist debate.
When presenting an award at the TV Baftas earlier this year, not long after giving birth, Garai chose her moment in the spotlight to make a joke about her stitches.
She reveals she rewrote the link herself after being asked to say "Because I recently had a baby, I've had an awful lot of time to watch television" made her "cross".
"I was like 'You what? Have you met any children or any women at all in your life?'" remembers Garai, re-enacting her 'outraged' face.
Reactions were mixed - "Some people were laughing, some people definitely weren't laughing" - with one writer even saluting her taboo-breaking skills.
"I find it weird that we live in a society where it's totally normal and run of the mill to go into Tesco and see a woman [on a magazine cover] in a thong," says Garai.
"But that for a woman to talk about the fact that her vagina had stitches in it because she was having a baby is somehow crossing a line?"
"Okay, if you like vaginas and you want to see pictures of them, great. But they also are used for other things too like having babies," she says.
"I just think, it's okay to have both," she adds, noting that porn is not illegal. "But we should have both. We need to understand that they're functional as well."
Legacy is on 28 November on BBC Two at 21:00 GMT.