Kenny Rogers joins Country Music Hall of Fame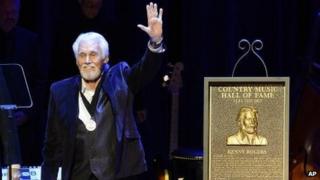 Kenny Rogers, Bobby Bare and the late Jack Clement have been inducted into the Country Music Hall of Fame at its museum in Nashville.
The trio was honoured for their influence on modern Country music at the ceremony attended by Garth Brooks, Kris Kristofferson and Barry Gibb.
Rogers, whose hits include Lucille and Islands in the Stream, called it the "culmination" of his career.
"I'm flattered, I'm honoured and I'm nervous," he said before the ceremony.
Rogers, 75, helped lead the way for crossover country pop hits and was in a reflective mood.
"What I've realised is that success is not a happening, it's a journey," he said.
"I think without this it would have been incomplete."
Singer Alison Krauss said of Rogers' addition to the Hall of Fame that "justice has been done", while Garth Brooks revealed the star took him on his first major tour as one of his opening acts.
"If there was an entertainer university, I can vouch firsthand that Kenny Rogers would be the professor of that class," said Brooks.
Bare, 78, whose hits include Dee-troit City and How I Got to Memphis, said of his induction, "It means that I will forever be referred to as a hall of famer. It sounds real good.''
Fellow inductee Clement died from liver cancer in August this year at 82, but he had found out five months earlier that he would be honoured.
He was inducted as a producer, songwriter and performer, having penned some of Johnny Cash's early hits and been responsible for the famous mariachi horns on Ring of Fire, which was performed at the ceremony.
Clement also worked with Jerry Lee Lewis and discovered Charley Pride.